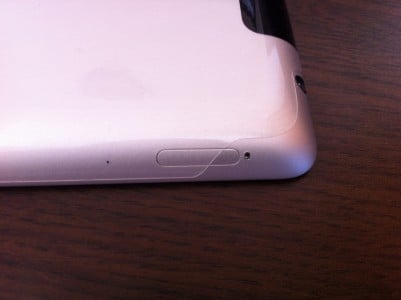 Ieri am scris un articol in care va prezentam modul in care este conceputa folia InvisibleSHIELD pentru iPad 2 3G de catre compania Zagg. Puteti observa din nou din imaginea de mai sus ca folia acopera locasul cartelei SIM atunci cand este montata deci nu puteti scoate cartela din tableta decat daca taiati o bucata indeajuns de mare din folie pentru a elibera acea portiune. Un utilizator al acestui site a trimis un email la Zagg intreband despre problema(pe care o avea si el cu tableta sa) prezentata de mine si mai jos aveti raspunsul primit de la compania americana :
"Hello Cute,

Thank you for contacting ZAGG, where we are Zealous About Great Gadgets! My name is Alicia C and I appreciate the opportunity to assist you.

In regards to your email, I am happy to hear that you received your order. The coverages we offer for the Apple iPad 2 will fit both models. The invisibleSHIELD does cover the SIM card slot due to the SIM card should not be removed all the time and only a few times. If you do have to remove the SIM card we do offer the lifetime replacement guarantee through your account on our ZAGG.com website.
Thank you for choosing ZAGG! We appreciate your business.

All the best,"
    Pe scurt, zagg considera ca nu exista nici o problema cu modul in care au gandit ei foliile si daca vrei sa schimbi cartela trebuie doar sa scoti folia, sa o trimiti la ei si vei primi alta noua in schimb. Nu stiu ce parere aveti voi despre raspuns insa din punctul meu de vedere gandirea lor este mai mult decat gresita, ca sa nu spun proasta. Este dificil sa instalezi o folie InvisibleSHIELD pe o tableta iar ideea de a inlocui folia pentru a schimba cartela mi se pare a fi de-a dreptul gresita si ma mir ca Zagg gandeste asa. Ma asteptam sa spuna ca foliile noi sunt taiate diferit insa din cate vad ei isi mentin design-ul prost. Acestea fiind spuse, nu pot sa recomand nimanui achizitionarea unei asemenea folii decat in cazul in care nu scoate absolut deloc, cartela din tableta.
Thanks to Bogdan.