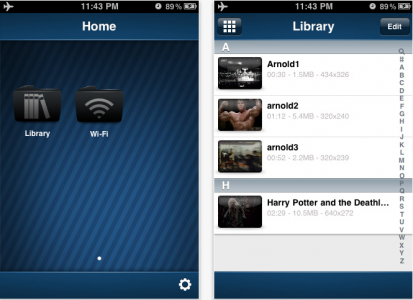 Acum 2 zile a fost lansat in App Store un nou player video pentru iPhone numit PlayerX. Aplicatia este disponibila gratuit pentru iPhone 3GS/4, iPad 1/2 si promite sa ruleze clipuri video in orice format, inclusiv cele 720p iar in cazul acestora din urma nu trebuie sa fi reconvertit filmul din formatul .mkv in unul suportat de catre iTunes. Player-ul promite multe insa eu va recomand sa nu va asteptati sa vedeti vreodata filme in format 720p .mkv fara probleme pe un iPhone 4 sau o tableta iPad 2 deoarece practic nu exista nici o aplicatie care sa poata face acest lucru cu hardware-ul existent in terminal. Iata ce formate video suporta PlayerX : gp, asf, avi, divx, dv, dat, flv, gxf, m2p, m2ts, m2v, m4v, mkv, moov, mov, mp4, mpeg, mpeg1, mpeg2, mpeg4, mpg, mpv, mt2s, mts, mxf, ogm, ogv, ps, qt, rm, rmvb, ts, vob, webm, wm, wmv.
       Iata si caracteristicile player-ului :
Support for all popular video formats
Supports HD playback (in 720p)
Intuitive, simple, and highly responsive User Interface.
Quick forward and backward controls
New Navigation and search
Subtitle Support (.srt)
      O versiune pentru iPad gasiti aici. Pe iPhone 3GS filmele in format 720p vor rula ceva mai greu din cauza hardware-ului inferior.
Numele:
PlayerX
---
Developer: PentaLoop
Categoria: Entertainment
Descriere: Watch your movies on the go from anywhere even if theyre in any format even if they dont normally play or even sync with your iPhoned! Download PlayerX & start transferring & watching your favorite movies …
Dimensiunea aplicatiei este: 16.5 Mb
---