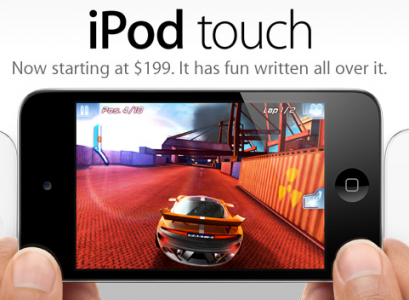 Pe langa iPhone 4S, iOS 5 si iCloud, aseara Apple a prezentat si noul iPod Touch 5G, terminal care se zvonea ca nu va fi prezent in confernta celor din Cupertino. Noul dispozitiv nu aduce absolut nimic nou pe partea hardware insa vine intr-o versiunea alba si este mai ieftin deoarece iPod Touch 5G de 8GB are un pret de pornire de doar 199$. In interior gasim acelasi chip A4 de anul trecut, dispozitivul are acelasi Retina Display si aceleasi camere insa va veni cu noul iOS 5 deci practic daca aveti un iPod Touch 4G chiar nu exista vreun motiv sa cumparati altul nou.
The new iPod touch includes iOS 5, the world's most advanced mobile operating system, which includes over 200 new features including iMessage™, Game Center, Notifications and Wi-Fi Syncing to iTunes®. iMessage brings the functionality of iPhone® messaging to your iPod touch, so you can easily send text messages, photos, videos and contact information to an individual or group on other iOS 5 devices. It also allows you to easily maintain one conversation across all your iOS devices—for free—with notifications, read receipts and typing indication.* Game Center enhancements include the ability to add photos to your profile, purchase new games from within the Game Center app, and even easier ways to find friends and new games.
      Pentru iPod Touch Apple chiar nu a adus absolut nimic interesant si mie mi se pare destul de ciudata aceasta alegere avand in vedere ca dispozitivul este foarte popular in randul gamerilor si un chip A5 cu un chip grafic nou ar fi convins multi sa isi cumpere fratele mai mic al terminalului iPhone.