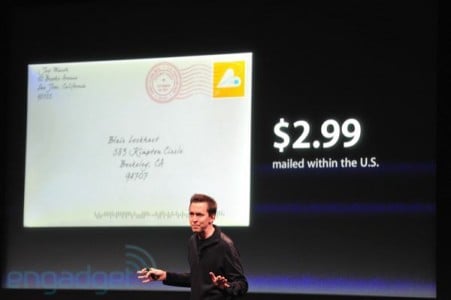 Aplicatia Cards permite utiliatorilor sa trimita carti postale prietenilor sau rudelor direct de pe propriul iDevice. Apple a facut cateva template-uri pe care utilizatorii le pot folosi iar dupa alegerea celui favorit trebuie doar sa introducem mesajul si o poza pentru cartea postala dorita. Dupa terminarea cartii postale o putem vizualiza in iDevice iar apoi trebuie sa introducem adresa dorita iar cartea postala va fi livrata de catre Apple. Deocamdata serviciul este disponibil pentru 2.99$ pentru a trimite o carte postala in SUA si 4.99$ pentru a trimite o carte postala in strainatate si teoretic oricine il poate utiliza.
    Iata principalele functii ale aplicatiei :
Custom letterpress cards
• Cards combine a centuries-old letterpress technique with your digital text and photos
• Each card is crafted from 100 percent cotton paper and imprinted with an elegant debossed design 
• Choose from 21 designs for six occasions: Thank You, Holiday, New Baby, Birthday, Love, and Travel
• Customize the placeholder text for any occasion, such as an anniversary or graduation
• Add a photo to your card or send one with just text

Location integration 
• If you select one of the Travel designs, your card automatically displays the name of your current location
• Choose a photo with GPS data, and the card shows the name of the place where the photo was taken

Prepaid postage included
• U.S. customers can send a card within the U.S. for $2.99 including postage
• Send a card anywhere else in the world for $4.99 including postage
• Select an address from your Contacts and easily personalize it — from Mr. Johnny Appleseed to The Appleseed Family, for example
• To place your order, simply enter your Apple ID password
• In the U.S., your card will include our own Apple-designed postage


Delivery notification
• Cards mailed to U.S. addresses make use of the United States Postal Service Intelligent Mail® barcode
• On the day your card is to be delivered, you'll receive a notification on your iPhone or iPod touch 

Card history
• All your cards are automatically saved and can be viewed in a history list
• You can resend any card to another recipient — perfect for when you have a lot of friends to thank or you want to spread the word about the newest member of your family
   Aplicatia Cards nu este disponibila in Romania si nici nu stiu daca va fi vreodata.