[youtube]http://www.youtube.com/watch?v=HZBe2lHMSuw[/youtube]
    Inca de duminica trecuta stiam ca Siri a fost portat cu succes pe iPhone 4 insa acum aflam ca noul asistent personal al celor de la Apple este disponibil si pe tableta iPad 2 si nu exista lag, interfata functionand exact ca pe iPhone 4/4S. Portul pentru iPhone 4 si iPad 2 se rezuma doar la interfata deoarece nimic nu este 100% functional precum pe iPhone 4S deoarece Siri de pe iPhone 4/iPad 2 nu se poate autentifica la serverele Apple. De fiecare data cand se trimite o comanda prin Siri terminalul cere autentificare la serverele Apple si compania nu autentifica deocamdata comenzile venite din partea altor terminale in afara de iPhone 4S.
   Partea buna este ca problema cu autentificarea poate fi rezolvata in viitor, nu se stie in cat timp dar rezolvari exista. Siri ar putea fi portat pe toate iDevice-urile, inclusiv cele vechi insa pentru ca portarea sa aiba loc este nevoie de timp iar cei care lucreaza la port sustin ca in cateva saptamani ar trebui sa avem sistemul disponibil. Deocamdata nu se stie daca portul Siri va fi distribuit gratuit sau nu deoarece persoanele care lucreaza la el sustin ca au nevoie de bani pentru a lucra la proiect, deci in final s-ar putea sa fim nevoiti sa platim o anumita suma de bani pentru a instala Siri pe iDevice-ul nostru.
   Pana una alta avem mai jos o dovada a faptului ca Siri poate ajunge pe iPhone 4 si iPad 2, acum asteptam sa vedem cand va fi totul gata. Mai jos aveti un FAQ facut de catre dezvoltatorii proiectului.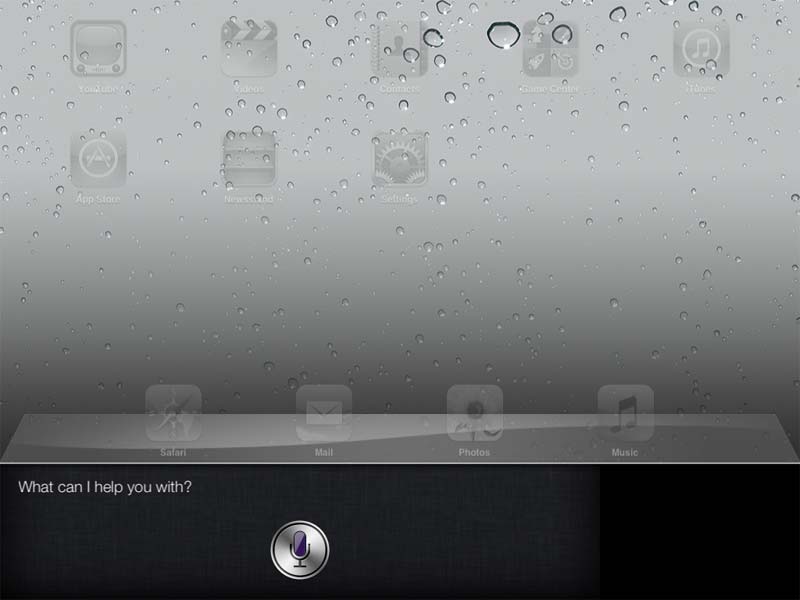 1. Who is currently working on this port?At this current time, the people that are working on this particular port of Siri are Jack (@Jackoplane) and iH8sn0w. Joshua Tucker of ModMyi is the beta tester for this particular version.2. What devices will be supported?

Currently, the port is being tested on an iPhone 4. However, the end goal is to port Siri to all devices. Right now, we can not make any promises to when those will be, however the iPhone 3GS is looking promising for the next step.

3. Are we in need of any beta testers?

Jack and the team working on the port (including myself – beta testing wise) don't need any testers at this time. Asking if that is possible is not the best idea – if we do need more people, we will extent that opportunity out when the time comes.

4. When will this port be released?

We are not specifying an ETA. The reason being is because we do not want to miss our expectation and have repercussions from people on the outside saying "You didn't make your deadline." Note that as soon as possible, we will release that information. For the time being however, there's no decided or even thought-up date for releasing Siri to the public.

5. How will this port be distributed?

There are numerous ways of distributing, however it's a matter of how the files end up being compiled as well as cost. Cydia has been suggested many times and that is a viable option. However, we're not limiting ourselves to just that venue as the tables may turn. At this particular moment in time, where this port will be distributed is currently undecided. Those of us that are hands-on with the work are always entertaining new ideas and will decide the venue when the time is right.

6. Will it be free or paid?

This is still undecided. This particular component is highly reliant on how we distribute this piece of software. Again, as the above, we're thinking through it thoroughly to ensure the best for all. The reason why it may be required to pay (if not donate) is because there are hosting related costs that will need to be taken care of to make sure Siri works for non-iPhone 4S users.

7. When you say that there are "legal issues" to be dealt with, what do you mean?

Because Siri is Apple's product as well as copyrighted material, one can't just release these files and not get away with violating the law. When the news of Jack's work as well as my involvement began, the files I had were strictly Apple's. Thus, if we had given those files out, then we could possibly be viable for copyright infringement. And as many of you know from people like geohot, that's no good in the hood.

8. What's the current status of the port?

Due to the legal nature of this port as well has for performance purposes, we're are starting from the ground up. Re-writing code and that sort of thing to avoid copyright infringement. At this current stage, performance of Siri is just as good as on the iPhone 4S.

9. When will a video be released?

A performance video will be released tonight to show that the speed of Siri has been greatly improved. As for a full fledged video, that will be here in the next few days.

10. Is a jailbreak required to install Siri on a non-iPhone 4S device

Absolutely; no question.

11. Any update on the untethered jailbreak for iOS 5/iPhone 4S

We know nothing more than the public does. It's not worth asking because we have absolutely no idea.

12. How does the Siri port connect to Apple's servers?

When you first activate an iPhone 4S and Siri, Apple's servers basically say "Oh, you're an iPhone 4S. You're clear." Since we don't have that luxury, we have to intercept the data that is being exchanged between devices to initially "trick" Apple's servers into thinking that the device is authorized. So, imagine that what we have setup is a middle man.

The iPhone 4 (in this case) sends out commands to Apple's servers, we intercept and change the data, send to Apple's servers, and Apple's servers goes "Cool beans." From there, it performs the actions we ask.

13. What is required to host this type of capability?

We won't really go into this because the process is not something that one can easily explain. However, as you guys have mentioned in chat, hosting this particular server to intercept data will cost money and will be the venue for all users to use Siri without an iPhone 4S.

14. Even though you can't give an ETA, is it days, months, years, lifetimes, millenniums, never?

Weeks.

15. Is the authentication process made just one or every time?

Anytime you request from Apple's servers, it performs a method of authentication.

16. What's so special about the iPhone 4S and its connection with Siri?

There is nothing special about the 4S that makes it so that Siri can only work on that chip. Nothing is hardware accelerated in regards to Siri.

17. When you say that authentication is required, what does it take?

Not releasing this information at this time.

18. I want proof of the performance! How can I know that it is performing much better?