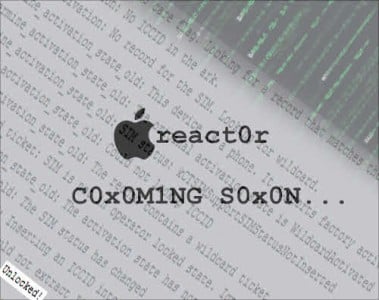 In ultima vreme tot mai multi asa-zisi dezvoltatori de solutii de unlock pentru terminale iPhone incearca sa pacaleasca utilizatorii sustinand ca au solutia caare ar putea decoda gratuit un iPhone cu baseband de iOS 5. Cea mai recenta tentativa de a paca mii de utilizatori este React0r, o asa-zisa solutie de unlock care in final s-a transformat intr-un tutorial pe care MuscleNerd il catalogheaza ca fiind 100% fals. Tutorialul a fost publicat aseara de catre un "hacker" numit hamzah_akram insa urmandu-l nu veti obtine decodarea de care aveti nevoie.
  Mai jos aveti toata procedura care trebuie intreprinsa pentru a "decoda" un iPhone 4 cu iOS 5.0.1 si baseband 04.11.08 insa conform lui MuscleNerd ea nu functioneaza. Tutorialul functioneaza pe terminale iPhone care au SAM instaltat din Cydia si sunt deja activate, indiferent de metoda, care au o conexiune de internet activa fie prin Wi-Fi fie prin abonament iar GPS-ul trebuie sa fie inchis.
0-open SAM then go out the app using home botton "LET IT OPEN"

1-First of all you need to go to http://www.unlockit.co.nz  (in your iPhone) and download your unofficial carrier profile (carrier o).

2. Insert your official iPhone SIM CARD "x" and dial any number , if no service dial 112.

3. Go to settings>Carrier and turn of auto search then select the network which you will use to connect in next steps (i mean carrier o). you will met a message "Restricted network … bla bla bla..".

4.hit Dismiss . then go back to main settings menu.

5.turn on airplane mode.

6. go fast to SAM>>utilities>> and press to deactivate SAM , Deactivate push "Clear certs"

go back check if SAM is in "Desabled" mode.

7.after this step you have to forget wireless networks. and turn off auto connection 

8. go to cydia>> manage > sources then "bingner" then uninstall SAM. Don't "restart springboard" now!

9.after uninstalling sam / press home button >> and go to settings then forget the Wi-Fi network~.

. make sure airplane mode is ON

.Eject the Carrier X sim/ press of the no sim installed.

10. Go back to cyida and get ready for inserting the next sim (Carrier O).

here is the fast step!

11. press "Restart Springboard" and insert the (carrier O) Sim card Before apple Logo "i mean normal restart springboard" progress indicator.'

12. you will met the regular apple activation screen. with (E) just wait 30 seconds.

13. turn off your iPhone. then turn on. the sam activation screen you'll met "now with one signal bar" and E data connection.

14.you'll see "use cellular connection" press it and wait 5 to 8 seconds

15.eject your sim then reinsert it fast. you will redirect to home screen!…. with full signal bar "Carrier O" network

go fast and call service center for 1 minutes "auto reply services center" of carrier O.

now go to settings>General>about and check your carrier: it must be "Carrier 11.0".

… you'll have your iPhone like a factory unlocked. Congrats.

16. enjoy calling your best friend or Baby as second call.