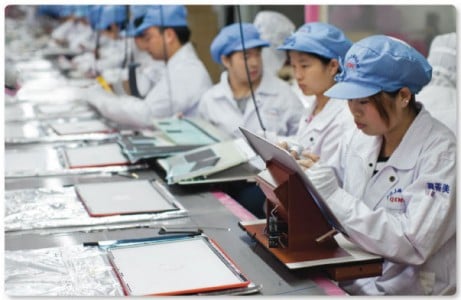 Apple se considera a fi o companie "verde" care militeaza intotdeauna pentru protejarea mediului inconjurator si pentru reciclarea componentelor vechi. V-am spus deja ca in viitorul apropiat o imensa centrala electrica solara va fi construita in Carolina de Nord pentru sustinerea acestor proiecte pentru protejarea mediului inconjurator insa pentru a demonstra ca si acum compania respecta regulile privind protectia mediului cateva ONG-ului vor avea acces la fabricile care construiesc piese pentru Mac-uri sau iDevice-uri.
HONG KONG – Apple has told prominent environmental activists in the U.S. and China that it will soon allow independent environmental reviews of at least two suppliers' factories in China, the activists said. The reviews come as Apple (AAPL) faces rising criticism about toxic pollution and factory injuries at overseas suppliers' factories. Environmental examinations would be separate from an independent probe of working conditions at the Chinese factories of Apple suppliers, including Foxconn Technology, that began last week.
  Cel putin 2 din cei 14 parteneri ai Apple isi vor deschide portile ONG-urilor care vor investiga modul in care functioneaza fabricile si Apple spera ca rapoartele independente sa prezinte lumii intregi imaginea unei companii care iubeste si protejeaza mediul inconjurator. Partenerii Apple au fost intens criticati pentru poluarea mediului inconjurator, unul dintre ei si-a inchis fabrica unde se produceau carcase unibody pentru Mac-uri iar acum o buna parte dintre ceilalti vor fi investigati de catre oamenii care ii acuzau de poluare. Imaginea Apple a fost afectata de recentele scandaluri din China si aceasta este o tentativa de a atrage atentia lumii spre lucrurile bune care se fac in cadrul companiei.