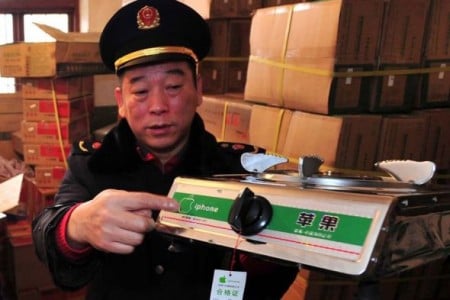 In China se copiaza cam tot ce poate fi vandut si desi Apple are procese care ii scot tableta iPad din magazine, alte companii ii fura numele, logo-ul si brandul iPhone pentru a vinde cuptoare. In imaginea de mai sus avem un produs al companiei Apple China si cu ajutorul sau nu veti incarca poze pe Facebook ci veti incalzi o supa sau veti face o portie de cartofi prajiti. Compania a furat atat logo-ul Apple cat si denumirea iPhone si le-a desenat pe marginea carcasei cuptorului care a fost descoperit de autoritati intr-un depozit chinez.
A total of 681 gas stoves that do not come with protection to prevent flame-out were seized. Some of the gas stoves are iPhone branded, and each of them comes with an Apple logo in green color. Interestingly, there's a compliance certification label on these iPhone branded gas stoves, saying… "Apple China Limited". That's totally hilarious and we should get one if we see it available for sale in stores.
  China este fara indoiala tara tuturor posibilitatilor, mai ales ca 681 de cuptoare de acest gen pot fi fabricate si puse in vanzare fara probleme.