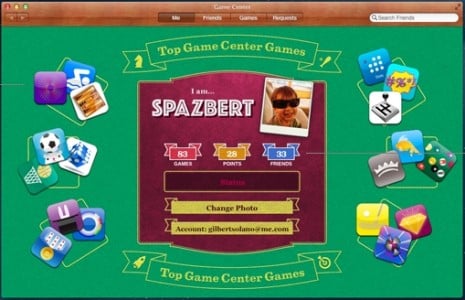 In OS X Mountain Lion Apple a inclus platforma Game Center care le va permite posesorilor de Mac-uri sa joace diverse jocuri impotriva posesorilor de iDevice-uri. Apple a mentionat ca aceasta functie va fi disponibila abia in OS X Mountain Lion insa recente informatii descoperite in interiorul recentei versiuni a sistemului de operare spun altceva. La o analiza rapida a aplicatiei Game Center din OS X Mountain Lion s-a descoperit ca aceasta necesita minim OS X 10.7 pentru a functiona deci teoretic poate rula fara probleme pe actualul OS X disponibil in Mac App Store.
Game Center will also be available for Mac OS X 10.7? Judging from what we read in the info.plist file inside Game Center application for OS X 10.8 Lion Mountain, the answer is unequivocally "yes." Opening the file, in fact, we read: "LsMinimumSystemVersion: 10.7", this in contrast to other applications like Notes and Reminder Mountain Lion, where the same plist says that the minimum version of the operating system is required instead of the 10.8.
  Desi deocamdata Apple nu spune ca va aduce Game Center pe OS X Lion, intr-un viitor update al sistemului de operare aplicatia ar putea fi extrem de usor inclusa.