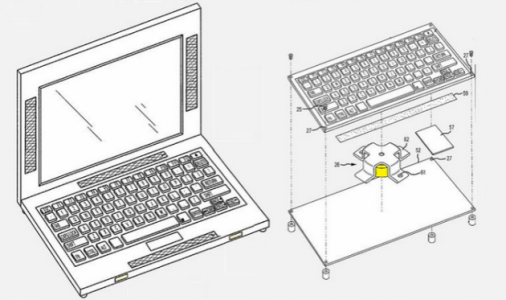 Compania Apple incearca in mod constant sa isi imbunatateasca produsele si astazi aflam ca MacBook-urile ar putea avea implementat un sistem surround sound daca acest brevet de inventie ar fi vreodata reprodus. Apple propune implementarea a unui numar de 4 diuzoare in Mac-uri plus a unui audio transducer iar intregul sistem ar trebui sa reproduca mult mai bine sunetele rulate de Mac. Apple descrie o metoda prin care doua difuzoare ar putea fi implementate in carcasa ecranului Mac-ului si ele ar emite sunetele de frecventa inalta in timp ce alte doua difuzoare ar fi implementate in carcasa si ar emite sunetele de frecventa medie iar audio transducer-ul are prelua sarcina emiterii sunetelor de frecventa joasa.
…the transducer may output both low and mid-range frequencies, essentially performing as a "subtweeter." In such embodiments, the speaker may output not only bass range frequencies (e.g., about 20-500 Hz), but also mid-frequencies (e.g., about 500-1500 Hz or higher)… The audio transducer may be combined with other speakers in an electronic device such as a laptop, tablet or handheld computing device 10. For example, in one embodiment, two tweeters and one woofer may be combined with the audio transducer. The transducer may output the bass channel and, optionally, the middle ranges, while the tweeters handle high frequency outputs. The woofer may output its standard range of frequencies. Through the combination of the woofer and the audio transducer, more decibels per watt may be outputted, especially in bass frequencies.
  Ideea celor de la Apple este interesanta pentru ca ar oferi Mac-urilor sale un sistem audio puternic si utilizatorii ar putea avea nevoie de asa ceva cand vizioneaza un film sau cand asculta muzica. Actualele Mac-uri nu se pot lauda cu difuzoare chiar atat de grozave insa Apple lucreaza la schimbarea acestui lucru  insa ramane de vazut daca brevetele sale de inventie vor fi vreodata implementate in produse reale.