Simtind nevoia implementarii unei modificari interesante in aplicatia Mail a iOS, Apple a decis sa modifice modul in care este afisata animatia Pull To Refresh. Aceasta animatie apare atunci cand trageti intreaga interfata de mail-uri in jos pentru a reactualiza lista de email-uri disponibile in contul vostru, iar in locul animatiei anterioare care oricum nu era disponibila in aplicatia Mail a iOS, avem una noua afisata in poza din partea stanga. Practic acum puteti actualiza inbox-ul vostru folosind un simplu swipe si aveti parte de o animatie draguta cand faceti aceasta actiune.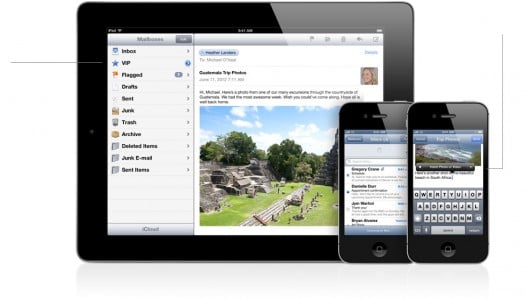 Cea de-a doua functie importanta implementata de catre Apple se numeste VIP Mail si ea aduce in aplicatia Mail o noua sectiune dedicata persoanelor importante din viata noastra. Sectiunea se numeste VIP iar in ea putem adauga, din lista de contacte, persoanele ale caror email-uri sunt atat de imporante incat trebuie sa fie afisat eintr-o categorie distincta pentru a ajunge mai usor in atentia noastra. Aceeasi optiune era disponibila si prin alte tweak-uri din Cydia, insa actum o aveti direct in iOS 6.
Redesigned with a more streamlined interface for easier reading and writing, Mail in iOS 6 lets you set up a VIP list so you'll never miss an important message from your accountant, your boss, or your BFF.5It's even easier to add photos and videos to email messages. And to refresh your mailboxes, all you have to do is swipe down.