In cadrul conferintei Apple de aseara compania a prezentat cateva functii interesante pentru PhotoStream-ul care este interconectat la sistemul iCloud. Mai exact, Apple ne permite acum sa partajam poze din aplicatia Photos direct in PhotoStream, insa ne permite sa le trimitem prietenilor nostri si sa le comentam direct din aplicatie. Putem alege persoanele la care ajung pozele si daca acea poza este disponibila public sau nu, PhotoStream-ul avand optiuni detaliate pentru aceste functii.
Now you can share just the photos you want, with just the people you choose. Simply select photos from the Photos app, tap the Share button, choose who you want to share your photos with, and they're on their way. Friends using iCloud on an iOS 6 device or a Mac running Mountain Lion get the photos delivered immediately in the Photos app or iPhoto.3 You can even view shared photo streams on Apple TV. If the folks you're sharing with aren't using an Apple device, they can view your photos on the web. People can like individual photos and make comments. And you can share as much as you want: Your shared photo streams don't count against your iCloud storage, and they work over Wi-Fi and cellular networks.
  De indata ce partajati o poza prin PhotoStream veti observa ca in aplicatia Settings aveti o noua categorie dedicata exclusiv acestui serviciu. Acolo puteti face albume cu fotografiile partajate, le puteti accesa, puteti lasa comentarii pentru ele si le puteti partaja pe diversele retele de socializare, prin email sau SMS. Pozele partajate de catre voi apar in aceasta interfata a iCloud, acolo oricine avand acces si putand vizualiza/descarca toate pozele publicate de voi de-a lungul timpului.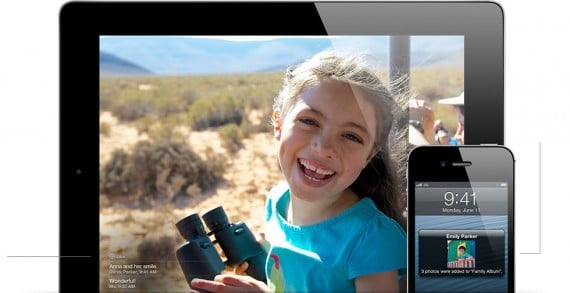 La final va spun ca intregul sistem este implementat in Notifications Center, deci atunci cand o persoana va trimite o poza sau comenteaza la o poza publicata de voi veti fi anuntati printr-o notificare push. Avand in vedere ca deja exista iCloud sau Twitter, PhotoStream-ul trebuie privit diferit, ca un serviciu care iti permite sa partajezi rapid prin iOS poze pe care nu doresti sa le vada chiar oricine.