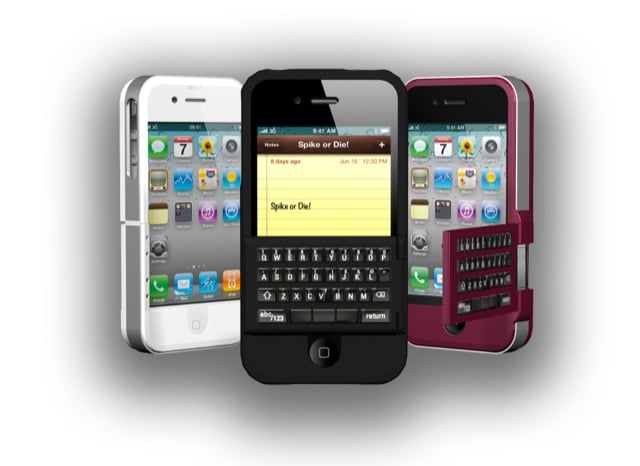 Tastatura QWERTY a BlackBerry-ului este in continuare apreciata de foarte multi utilizatori si o echipa de ingineri din SUA incearca sa profite de aceasta popularitate pentru a o aduce posesorilor de terminale iPhone. In aceasta idee ei au dezvoltat carcasa Spike care va permite sa adaugati iPhone-ului vostru o tastatura fizica intr-un mod cu totul inedit. Carcasa are montata acea tastatura direct in ea, iar voi o puteti atasa iPhone-ului vostru prin simpla montare a sa in carcasa. Spike a fost conceputa pentru a oferi utilizatorilor posibilitatea doar de a proteja iPhone-ul, insa atunci cand utilizatorii doresc sa scrie ceva aceasta poate fi intoarsa si poate fi montata tastatura fizica.
We have carefully engineered Spike, so in a flash, you can transition from typing to making or receiving a call, launching any of your apps, or playing Angry Birds, and then back to typing, all without missing a beat!  Because we believe you should always have a choice, our initial suite consists of two versions, Spike¹ and Spike². Both versions incorporate our proprietary TypeSmart keyboard that has been carefully integrated into handsome iPhone protective cases. Of course, we will manufacture them using only premium materials that are suitable for an Apple accessory product.
  Ceea ce este interesant la aceste carcase are legatura cu posibilitatea de a detasa partial tastatura pentru a putea accesa ecranul terminalului si a utiliza aplicatii. In clipul video de mai sus aveti explicata functionalitate carcasei si sincer sa fiu cred ca este una dintre cele mai inovative carcase concepute pana acum. Dezvoltatorii proiectului au conceput doua modele de carcase, fiecare cu o tastatura speciala ce este construita folosind tehnologia TypeSmart ce permite utilizatorilor sa tasteze rapid si usor orice. Deocamdata proiectul carcasei Spike nu a fost lansat, insa de indata ce va deveni activ cred ca va aduna rapid destul de multi bani.
  Voi ce parere aveti despre Spike? Ati achizitiona  o asemenea carcasa?