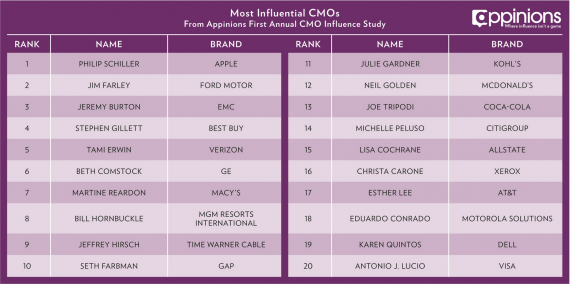 Phil Schiller este de destui ani de zile CMO, Chief Marketing Office, al companiei Apple si in momentul de fata el este clasat pe primul loc intr-ul top al celor mai influenti CMOs din lume. La Apple el are titlul de SVP al diviziei de marketing si practic se ocupa de tot ce are legatura cu marketing-ul produselor Apple din lumea intreaga. Schiller a intrat in acest top partial din cauza atentiei pe care a primit-o in ultima vreme, declaratiile sale privind aluminiul benzilor laterale ale iPhone 5 si cele facute pe marginea altor subiecte l-au tinut in atentia marilor publicatii de pe glob.
Media exposure ensures that a CMO has visibility [and] achieves impressions with a mass audience, however, this doesn't directly equate to establishing the CMO as an influencer. The credibility of the media source might imply a CMO's level of importance to its readers, however, the true test of influence is whether a CMO's opinions resonate enough with readers to generate action from them.
  Phil Schiller este cunoscut pentru faptul ca acorda importanta opiniilor utilizatorilor si pentru faptul ca raspunde la destul de multe email-uri de-a lungul timpului, multe dintre ele fiind prezentate de cele mai importante publicatii media de pe glob. Statutul sau de influencer nu se datoreaza doar atentiei pe care i-o acorda presa, ci si actiunilor pe care opiniile sale le pornesc. Influenta sa este masurata practic prin numarul si importanta publicatiilor care ii preiau declaratiile, dar si prin actiunile utilizatorilor care le citesc, iar Phill Schiller pare sa fie cel putin la fel de important precum Tim Cook pentru Apple.
  In topul celor mai influenti CMOs, Schiller este urmat de Jim Farley, CMO Ford, Jeremy Burton, CMO EMC, si lista continua cu oameni care, in mare parte, sunt angajati de catre companii americane.