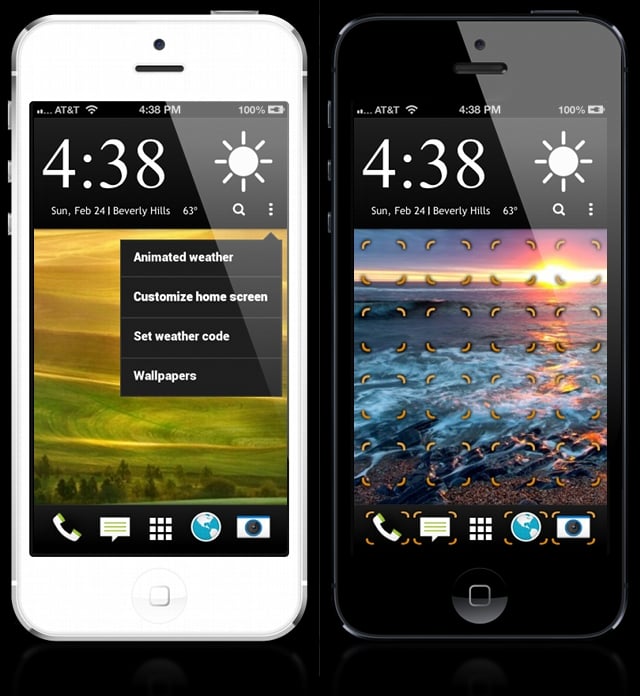 HTC One este cel mai nou smartphone produs de catre HTC, insa el este si sursa de inspiratie pentru tema pe care o vedeti prezentata in imaginea de mai sus. Un dezvoltator de teme s-a gandit ca posesorii de iDevice-uri ar fi incantati sa isi poata modifica interfata sistemului de operare dupa bunul plac, asa ca a conceput o tema care este cat se poate de apropiata de cea oferita in Android OS. Tema pentru iOS are: un wallpaper animat, un widget care afiseaza informatii live despre vreme, un rss feed pentru noutati, widget-uri live pentru web, un photo widget si multe altele.
Inspired by the new upcoming HTC One, this theme will give you the look and the feel of the it. Live feed just like the new. Phone that you can scroll though, even edit and change you wigets from facebook, twitter, google, and instagram. Live rss feed as well as photo widget in your feed. This theme is fully editable for your personal preference.

Scrolling wallpaper
Live weather
easily set your weather from in the app
edit your app icons easily
Scolling news feed with widgets
Notification alerts
live web widgets
live rss widget
live photo widget that pulls images from your photos
Interchangeable widgets

NOTE:

iphone 5 and the new ipod touch only
lockscreen will be enabled as soon as dreamboard is updated
  HTC One functioneaza cu ajutorul platformei Dreamboard, iar de indata ce aceasta platforma este actualizata, vom putea seta inclusiv un lockscreen inspirat din interfata HTC One. In momentul de fata tema este disponibila pentru download gratuit in repo-ul ModMyi al Cydia, insa ea functioneaza doar pe iPhone 5 si iPod Touch 5G.