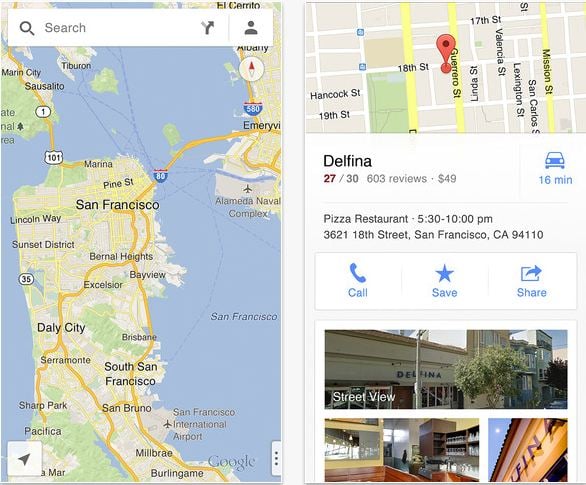 Google Maps pentru iOS a fost lansata la sfarsitul anului trecut in App Store de catre Google in ideea de a oferi posesorilor de iDevice-uri posibilitatea de a utiliza sistemul Google Maps pentru a naviga folosind propriile iDevice-uri. Aplicatia a fost dezvoltata dupa ce Apple a decis sa excluda aplicatia nativa Google Maps din iOS 6 si a implementat propriul sistem de harti, iar acum ea a fost actualizata. Versiunea 1.1 este disponbila pentru download din App Store si ea aduce posibilitatea de a cauta prin Google Contacts dupa adrese, posibilitatea de a cauta business-uri locale, optiunea de a alege afisarea distantelor in kilometri sau mile si :
Search your Google Contacts; sign in to see your saved addresses when you search for friends and family by name.
Search for local places quickly by selecting popular categories such as restaurants, pubs, cafés, petrol stations, etc.
Choose between kilometres or miles for your preferred distance units.
Note that some features may not be available in all countries.
  Google Maps 1.1 este disponibila in format universal in App Store.
Numele:
Google Maps
---
Developer: Google, Inc.
Categoria: Navigation
Descriere: Navigate your world with Google Maps, now available for iPhone. Get comprehensive, accurate and easy-to-use maps with built-in Google local search, voice-guided turn-by-turn navigation, public transport di…
Dimensiunea aplicatiei este: 7.2 Mb
---