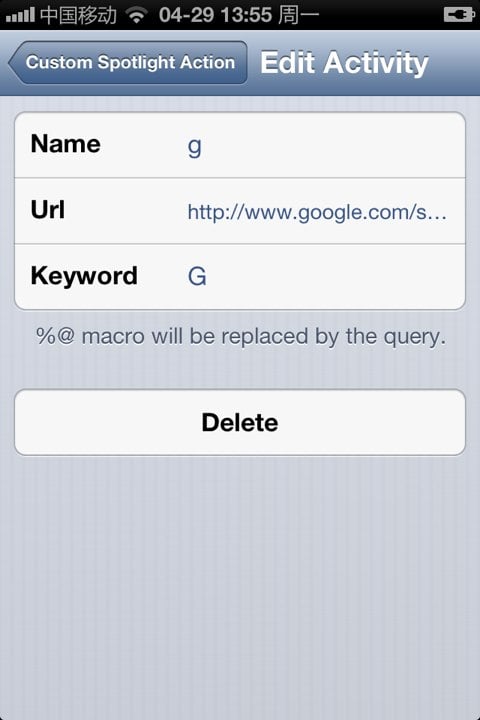 CustomSpotlightAction este un tweak complex lansat in cursul serii trecute pentru iDevice-urile noastre, iar cu ajutorul sau putem utiliza Spotlight-ul din iOS intr-un mod cu totul inedit. Tweak-ul ne permite sa setam scurtaturi pentru rularea anumitor comenzi, acele scurtaturi putand fi combinate cu diverse cuvinte si rulate prin Spotlight. Tweak-ul are un meniu de setari in aplicatia Settings a iOS, iar acolo putem stabili cuvantul care tine rolul scurtaturii, dar si comanda care trebuie rulata.
If you are alfred user, you probably know what is tweak for. This tweak is exactly like alfred's web search. But you type it on spotlight instead. E.g. I set keyword "g" for url "http://www.google.com/search?q=%@". Then when I want to search iPhone's case by google, I just go to the spotlight page, type "g iPhone case" and click search, then browser will open google for me. Not just the http url, but also url scheme power by app. E.g. set keyword "Ci" for "clearapp://task/create?listName=Biz& listPosition=&taskName=%@& taskPosition=Bottom". When I want to add task to list Biz, just type "Ci taskname" in spotlight and click go button.
  Tweak-ul ne permite sa setam comenzi pentru deschiderea de website-uri prin Safari, sau pentru deschiderea aplicatiilor din iOS, ori pentru rularea anumitor functii ale acestora. Tweak-ul se foloseste de schema de URL-uri din iOS pentru a ne oferi aceasta functionalitate si daca sunteti un power user, atunci probabil veti fi interesati de el. CustomSpotlightAction este disponibil gratuit in repo-ul BigBoss al Cydia.