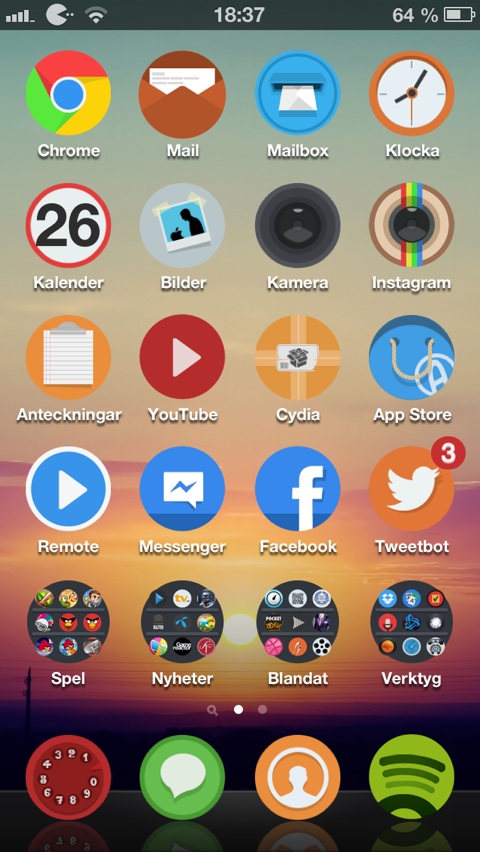 Wazi este denumirea unei teme inedite pentru iDevice-urile noastre, ea aducand in iOS o interfata placuta si, desigur, diferita de tot ceea ce stiam deja. Tema modifica LockScreen-ul terminalelor, modifica design-ul iconitelor native/terte, design-ul iconitelor folderelor, elimina dock-ul, modifica Notifications Center-ul, task switcher-ul, si desigur ofera modificari substantiale ale interfatelor aplicatiilor native. Wazi inseamna simplu in swahili, iar tematica este in ton cu denumirea, desi schimbarile sunt substantiale pentru a va da senzatia ca utilizati un iOS aproape complet nou.
Wazi is an circle theme with plain and flat interface to match the new modern look. And btw. Wazi means Plain in Swahili.

The theme inlcudes:

Themed

Messages;
Lockscreen;
Batteri;
A bunch of icons;
Setting icons;
SBSettins;
Auxo Theme;
A small fix for the tweak Atom;
Notifications Center;
A circle mask so all your new icons match the theme;
An really simple PSD file so you can theme new icons. Read the text file for tip how to theme. (located in Wazi Theme folder) and some extra UI stuff.
  Wazi functioneaza prin intermediul platformei Winterboard, ne pune la dispozitie iconite pentru majoritatea aplicatiilor terte din App Store si in viitor va fi actualizata pentru a contine modificari substantiale. Wazi este disponibila la pretul de 2$ in repo-ul BigBoss al Cydia.