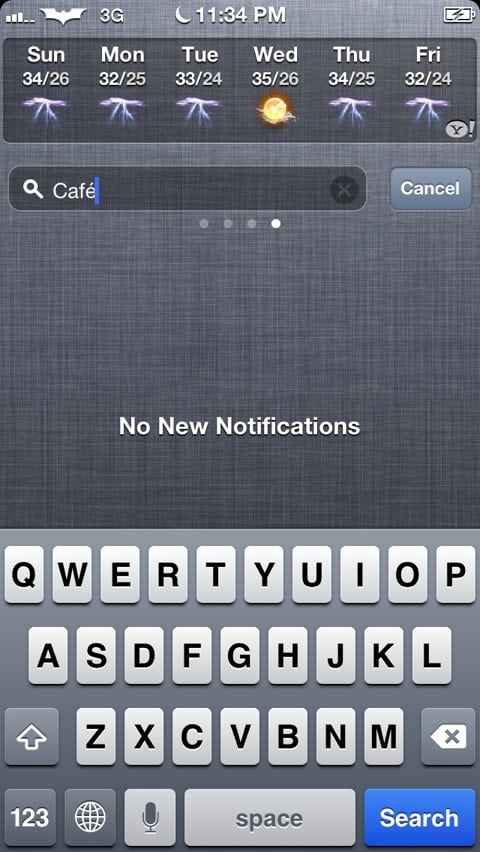 NCSearch este un tweak pentru iDevice-uri care a fost lansat in cursul acestei dimineti in Cydia si care implementeaza in Notifications Center-ul din iOS un widget prin intermediul caruia putem efectua rapid cautari pe web. Widget-ul ne ofera posibilitatea de a efectua cautari folosind 5 dintre cele mai populare motoare de cautare de pe web, rezultatele putand fi deschise direct in browserul Safari. In imaginea de mai sus observati cum puteti accesa functionalitatea tweak-ului, el functionand si in LockScreen daca aveti un plugin corespunzator.
This is a Notification Center addon that adds 5 search engines to your Notification Center.With this you can search the web easier.

Features:

We have 5 search engines, Including Google, Bing, Baidu, Wiki and a special one, TinEye.
You can search by image with TinEye. Just copy an image link(LONG PRESS a image in website in browser then press 'copy'), then pull down Notification Center press the BOOKMARK button on our searchbar to launch the search.
Friendly UI. We redesigned the UISearchBarView and it would fit with NC better.
Great stablity.
Save your time. Search terms you want just by pulling down the NC.
He is a great assistant to your life.
  NCSearch are disponibil un meniu de setari in aplicatia Settings si in Cydia il gasiti gratuit in repo-ul BigBoss.