[youtube]http://www.youtube.com/watch?v=hzOXxm0ISVE[/youtube]
  In cursul zilei de vineri noua tableta iPad Air va fi lansata in cateva zeci de tari de pe intregul glob, iar in cursul acestei nopti au fost publicate primele review-uri pentru noul produs. Cei de la Apple au oferit unitati de test marilor publicatii americane si majoritatea dintre ei au laudat faptul ca iPad Air este mai subtire decat generatia precedenta, au laudat faptul ca tableta este mai usoara decat modelul precedent, iar la final au venit laudele pentru noul procesor A7.
[youtube]http://www.youtube.com/watch?v=_3I-slWqTcE[/youtube]
  Unii prezinta iPad Air ca fiind cea mai confortabila tableta pe care au testat-o vreodata, altii au fost dezamagiti de lipsa Touch ID-ului, in timp ce altii au laudat autonomia bateriei. Desigur ca niciun produs nu este lipsit de probleme, insa in cazul iPad Air exista mai multe puncte pozitive decat negative de la majoritatea celor care au facut review produsului, iar mai multe puteti descoperi mai jos.
[youtube]http://youtu.be/dRx-eWz6Z0s[/youtube]
Jim Dalrymple, The Loop
It's very hard to describe how good the iPad Air feels in your hand without actually picking one up. It's kind of like the first time you saw a Retina display for the first time—shock.

This smaller size is great. If you have decent sized hands you can type with two thumbs on the iPad in portrait, something I wasn't really able to do with the last generation iPad without a lot of stretching. Clearly a full-size iPad is not something you will be thumb typing with all the time, but it does give you an idea of how much smaller the iPad Air is.
Walt Mossberg, AllThingsD
In a feat of design and engineering, Apple has slashed the iPad's weight by 28%, made it 20% thinner and 9% narrower, while increasing its speed and retaining the brilliant, 9.7-inch Retina display.

The new iPad weighs just 1 pound, down from 1.4 pounds for the previous top-of-the-line model, the iPad 4, which is being discontinued.

And it has done all this while maintaining the iPad's industry-leading battery life. In my tests, the iPad Air far exceeded Apple's claim of 10 hours of battery life. For over 12 hours, it played high-definition videos, nonstop, with the screen at 75% brightness, with Wi-Fi on and emails pouring in. That's the best battery life I've ever recorded for any tablet.
Brad Molen, Engadget
Yes, as strange as it may sound, the latest iPad is actually just a larger version of the 7.9-inch mini. It's as if the smaller device — which launched at the same time as the fourth-gen iPad — was a pilot test for Jony Ive's new design language. Calling it the "Air" was fitting indeed, since it's ridiculously small and light compared to previous models.

It measures 7.5mm thick and weighs only one pound (1.03 pounds, to be exact), making it 1.9mm thinner and 0.43 pound lighter than the iPad 4. Apple's also trimmed the left and right bezel by roughly 8mm on each side. If that doesn't sound significant, just hold the Air for a minute and then pick up an older iPad; the difference is immediately noticeable. Simply put, the iPad Air is the most comfortable 10-inch tablet we've ever used.
Matt Warman, The Telegraph
Its light weight and thin form mean it gets out of the way – you don't notice it, but you notice what you're doing on it. That, potentially, unleashes a new generation of tablet-based productivity. The fact that Apple is now giving away even more software means that perhaps the rebranding is, therefore, more than simply a marketing exercise. Air may yet be the oxygen for a new wave of uses for the iPad.
Edward Baig, USA Today
As it happens, though, this latest full-size Apple tablet is the most tempting iPad yet, better than its already best of breed predecessors, superior still to each and every rival big screen slate that I've tested. Apple dominates the tablet apps ecosystem. Its tablet remains the easiest to use.

In a side-by-side comparison against its immediate predecessor, the new iPad indeed opened apps more quickly and booted up and shut down slightly faster, though not to such a degree that I expect most people to notice.
Damon Darlin, The New York Times
What you may not know is this: Those 6.4 ounces make all the difference when, as you recline while reading or watching a movie, you conk out and the iPad falls forward to bonk you on the nose. The Air won't hurt you the way the old iPad did.

The weight reduction and a 20 percent slimmer profile provide other benefits, too. My messenger bag strap didn't dig into my shoulder as deeply when my iPad was in it. My hand didn't cramp up while grasping the iPad Air for an hour while watching movies or playing games.
That big public yawn must drive Apple's engineers crazy. The thing is, making the iPad smaller, lighter, and faster without sacrificing battery life or beauty is a tremendous achievement.

This isn't a device that sits or hangs in one place its whole life. It's not a microwave or a TV. You have to hold this thing while you're using it, and carry it around when you're not. So size and weight matter a lot.

Still, at $500, an iPad probably doesn't need replacing every year or even every other year; if you have a 2012 or 2013 model, stick with what you've got.

On the other hand, you'll find the Air a fantastic leap into the future if you're upgrading from an original iPad, or if you've never owned a tablet before.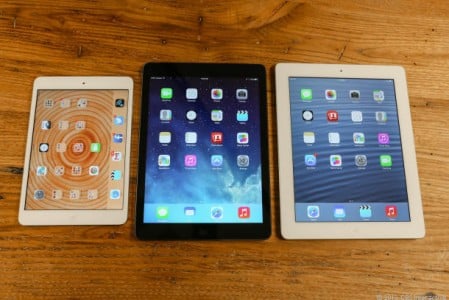 Anand Lal Shimpi – AnandTech
At a high level we're still talking about two 64-bit Apple Cyclone cores with 128KB L1s per core, a shared 1MB L2 cache and a 3MB L3 cache that services the entire SoC. Apple increased CPU frequency from 1.3GHz to 1.4GHz in the iPad Air, a mild increase but in line with what we've seen from previous iPad designs. That's the first impact on performance – a 7.69% increase in CPU frequency.

The second impact on performance is something I only noticed while digging around under the hood of the A7. It seems like the implementation in the iPad Air can, for whatever reason, hold more instructions in flight (over 20% more) than the A7 in the iPhone 5s. It's unclear to me whether the A7 in the iPad is configured any differently via firmware/microcode or if perhaps we're looking at a slightly different revision of the core, but the delta was repeatable in my testing.

The third, and likely biggest change impacting the iPad Air's implementation of the A7 is the additional thermal headroom afforded by the larger chassis. I'm not going to go into details on exactly what this next test does (unfortunately we're going to occlude some of the low level work that we do in light of all of the benchmark cheating going on), but we're looking at a curve of performance vs. time for a particularly power heavy mix of code. We're running the same exact code on both the iPad Air and iPhone 5s here, the only real difference is the size of the chassis:
Tim Stevens – Cnet
If you found yourself tuning out the last few generations of iPad thanks to their extreme familiarity, it's time to get yourself dialed back in. The iPad Air is worth getting excited about. Though it brings no new functionality to the table, and we can't help being disappointed about the lack of Touch ID, the performance increase and solid battery life show that progress is still being made on the inside. It's the new exterior design, however, that really impresses. The iPad Air is thinner than any tablet this size deserves to be, and lighter, too. The old iPad always felt surprisingly hefty. This one, compellingly lithe.
Darrell Etherington – TechCrunch
Having used primarily an iPad mini for the past year, there's no question that coming back to the 9.7-inch Retina display was an uplifting experience. It felt a little like getting your prescription adjusted and realizing you've been seeing everything poorly for a long time. Video shines on the iPad Air, as does image-rich content like comic books and photos.

Not to mention that all that extra space makes for a much more comfortable browsing experience, and offers a lot of benefits when it comes to content creation. It doesn't feel arduous doing work on the iPad; you can start to remember why people touted the iPad as a PC-killer when it debuted, and it edges ever closer to being able to truly replace notebooks for the majority of everyday users…

The Smart Case makes the iPad Air feel quite a bit more bulky, in my opinion, and is fairly difficult to get off once its on. On the other hand, it's definitely more protective than the Smart Case, and it's still relatively svelte. Apple has also nailed its leather case designs in terms of putting out a product that feels very high quality, and that's what they've done here, too.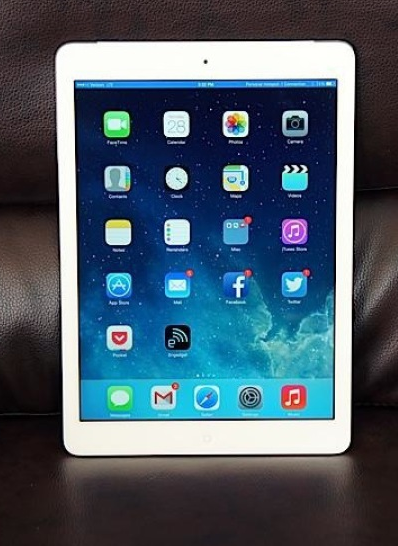 Stuart Miles – PocketLint
Apple has done it again: the iPad Air is a tablet better than the last iPad. Simply put the iPad Air is the best iPad the company has ever made. It's light, it's thin, it's fast, it's amazing.

For die-hard Apple fans we can see how you would be disappointed in terms of wow factor, there is no stand out feature here that you will want to show your friends the moment they walk through the door in the same way you can with the iPhone 5S and Touch ID, however this is Apple creating the ultimate experience rather than focusing on specs for specs sake.

That's not to say the iPad Air is lacking. it's not, but here things just work. It is seamless, and you can see that through and through the moment you pick up the new Apple tablet. You aren't left questioning why things work, they just do, and do every time and for millions of future customers that is and will be very much welcomed.

The potential "but…" comes when you realise how similar the Air is to the iPad mini Retina in terms of design. As much as that's great from a power perspective, it knocks both tablets out of their individual defining spaces and that will trouble many as to which one to go for. No longer is the iPad mini the poorer sibling.
Clayton Morris – FOX News
At 1 pound, the new iPad Air is impressively light, barely heavier than the iPad mini. My toddler can waddle around the house with it a lot more easily, and I can now use it in bed without worrying that it will smack me in the forehead if I doze off while reading Frank Miller's "The Dark Knight Returns." Which has been known to happen with the previous generation iPad.

It's hard to believe Apple managed to shave nearly a half-pound off last year's fourth-generation iPad while still maintaining exceptional battery life, which in my all-day usage rarely dropped below 30 percent.
Rich Jaroslovsky – Bloomberg
Apple says the A7 chip and a new motion-detecting coprocessor also help the Air last for 10 hours between charges, the same as its predecessor, despite having a smaller battery. My experience suggests the claim is, if anything, conservative.

I actually grew impatient trying to exhaust the battery in my tests; you should get a lot more than a full day of normal use on a charge.
Ben Bajarin – TechPinions
The A7 being a 64-bit processor has laid a new foundation in mobile computing and it is one that will help the iPad Air stand the test of time. There was a time not too long ago when PC purchasing advisors recommended to consumers to buy as much processor as they could afford. These were the days when megahertz was going to gigahertz. While I don't recommend consumers buy products solely based on specs, I think the same advice applies to the iPad Air. The A7 helps future proof the iPad Air helping to extend its life and the performance of the tablet well into the future.
Lance Ulanoff – Mashable
Yes, it's true, the iPad Air is essentially a larger iPad Mini Retina. For some, that's a disappointment. For me, the new iPad Air is close to everything a consumer tablet should be: Light, fast, fun, beautiful and a little bit like the future.