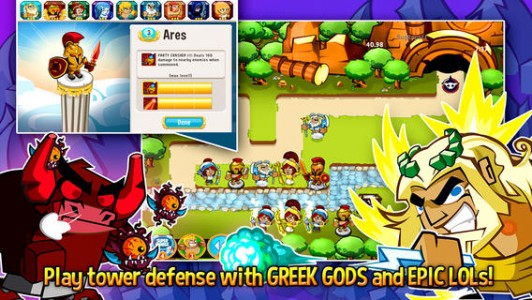 OMG: TD! este un joc disponibil de putina vreme in App Store-ul companiei Apple si vorbim despre un tower defense usor diferit de ceea ce stiati pana acum. Diferenta este data de grafica gandita de catre dezvoltatori pentru el, gameplay-ul fiind asemanator cu cel al diverselor titluri disponibile in App Store. In joc veti avea controlul asupra unor turnuri care sunt gandite pentru a avea un aspect cat se poate de asemanator cu cel al cunoscutilor zei greci, iar folosind diverse magii puteti chema cei mai cunoscuti eroi greci in ajutorul vostru.
Play the action-packed defense game where you command the Greek gods themselves! Blast hordes of monsters with elemental magic, call legendary heroes to your aid, and summon your gods to wreak havoc across the battlefield! OMG: TD! is an ever-expanding universe of danger and ridiculousness. Unlock and level up the most powerful gods from Greek legend, and imbue them with special powers. Explore 20 thrilling levels set in 3 different worlds. Push your tactical skills to the very limit by playing the game in challenge mode. Battle the terrible Titans and their armies and see who comes out on top!

FEATURES

FREE TO PLAY
Blast monsters with LIGHTNING, FIRE or WATER with a single SWIPE
Unlock and upgrade unique skills for each of 9 gods, from Poseidon's Sushi Buffet to Ares's Party Crasher and Hephaestus's Cluster Bomb!
Over 40 different monsters, from Horse Fishes to Harpies and Maggot Lords, each with their own skills!
Find and use Exploding Sheep, Automatons, Pits of Despair and Spinning Saws
Turn the tides of battle with amazing power-ups like the FIST OF GOD and the HERO'S BEEFCAKE
Defeat LEGENDARY BOSS MONSTERS from Greek myth!
  OMG: TD! este disponibil in format universal in App Store.

Nume:
OMG: TD!
---
Developer: Yodo1 Hong Kong L…
Universala
Categoria: Games
Descriere: >> New App Launch: Get OMG:TD! for FREE now and for a limited time get 8 power-ups for FREE! (Save $4.99) A ridiculously HILARIOUS defense game packed with monsters and magic! -Appoday
Play the action-packed defense game where you command the Greek gods …
Dimensiunea aplicatiei este: 165.4 Mb
---