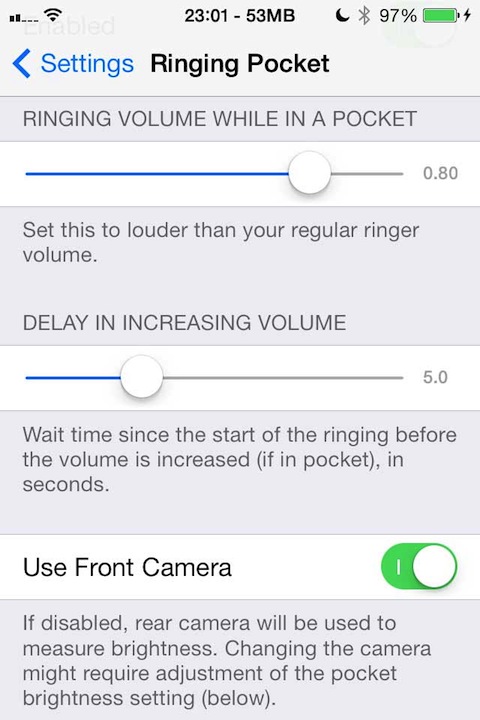 Ringing Pocket este un tweak lansat in cursul serii trecute in Cydia pentru iOS 7, iar el a fost conceput special pentru a creste automat nivelul volumului difuzorului iDevice-urilor noastre cand acestea se afla in buzunarele hainelor. Ringing Pocket are disponibil un meniu de setari in aplicatia Settings a iOS 7, iar folosindu-le putem seta ca tweak-ul sa creasca automat nivelul volumului difuzoarelor noastre cand ele se afla in buzunar, cresterea putand fi efectuata inclusiv cu o anumita intarziere.
Do not miss any more calls when your iPhone/iPad/iPod Touch is in your pocket, bag or backpack! Ringing Pocket increases the ringing volume of the incoming calls if it detects that your device is in your pocket. And as soon as you take the device out of the pocket, the original ringer volume will be restored. Facetime calls are also supported. Mute switch and Do Not Disturb mode are not affected, both will function as usual.
  Tweak-ul isi da seama ca terminalul se afla in buzunar folosindu-se de imagini preluate de camerele dispozitivelor noastre, el masurand automat nivelul luminozitatii din jurul terminalului. Tweak-ul functioneaza pentru orice fel de apeluri, inclusiv cele FaceTime, nu modifica setarile Do Not Disturb sau ale butonului Mute, iar in momentul in care scoatem terminalul din buzunar totul revine la normal. Partea interesanta este ca putem seta ca terminalul sa seteze o valoare mai mare sau mai mica daca terminalul sta in pozitie verticala sau orizontala, deci avem optiuni multiple de pesonalizare.
You can choose how loud should the phone ring while inside a pocket, should it become louder immediately or after a couple of rings and if the volume should be increased at all if the phone is in the horizontal position (e.g. on a nightstand) to avoid louder ringing during the night.
  Ringing Pocket este disponibil la pretul de 2$ in repo-ul BigBoss al Cydia.