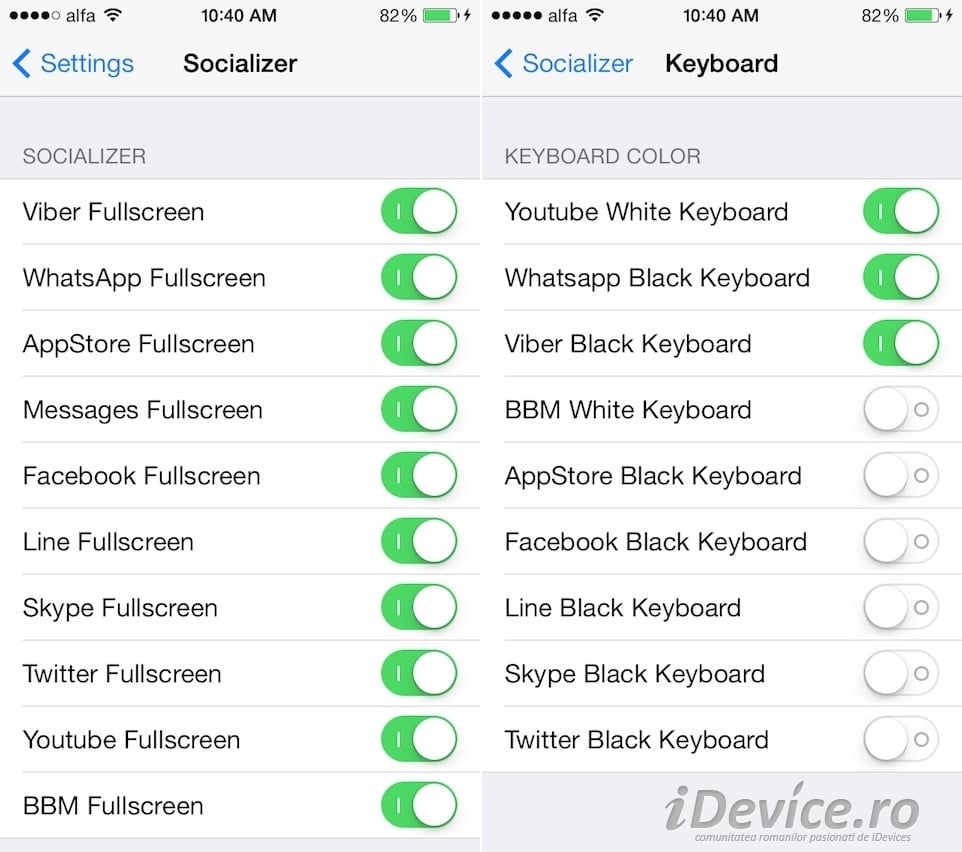 Socializer este un tweak disponibil din cursul zilelor trecute in Cydia, el reprezentand o combinatie de diverse tweak-uri pentru iOS care permit imbunatatirea functionalitatii aplicatiilor retelelor de socializare. Mai exact, tweak-ul imlementeaza in aplicatia Settings un meniu de setari care permite modificarea functiilor celor mai populare retele de socializare.
FullScreen mode for you favorite social apps with an on/off toggle for every app. Black keyboard for apps with white keyboard and white keyboard for apps with Black keyboard and i assigned a toggle for every app to give the users complete control.
  Folosind Socializer putem vizualiza aplicatii precum WhatsApp Messenger, Twitter, Viber sau YouTube pe intregul ecran al terminalelor, putem activa o tastatura neagra pentru utilizarea aplicatiei, putem utiliza aplicatia App Store in landscape mode, putem activa meniul secret de setari al aplicatiei Facebook, putem vizualiza emoji-uri mari in aplicatia BBM si lista poate continua la nesfarsit.
Enhancements for enhancing your favorite apps such as:<br>
Auto compose Messages (when entering the message app it automatically greets you with a new message composer. Landscape Appstore enables landscape mode for appstore to surf apps awesomely. Facebook internal Settings : enables the internal settings of the facebook app.
  Tweak-ul Socializer este disponibil gratuit in repo-ul BigBoss al Cydia.