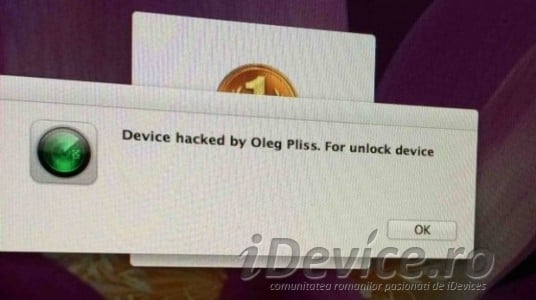 Cu doar cateva saptamani de zile in urma v-am spus ca posesorii de iDevice-uri din Australia sunt santajati de catre un grup de hackeri care le blocheaza terminalele prin iOS 7 Activation Lock si le cere bani pentru a debloca. Doi hackeri au fost in spatele acestui santaj facut in Australia, ei cerand intre 50$ si 100$ pentru a debloca terminalele utilizatorilor.
The hackers – aged 17 and 23 – were detained in the course of "operational activities" by the Russian Interior Ministry, Russia's Ministry of Internal Affairs said. They are both residents of the Southern Administrative District of Moscow and one has already been tried before, it said.
  Cei doi hackeri erau originari din Rusia si se pare ca au fost deja arestati de catre autoritatile ruse, insa deocamdata nu se stie daca Apple a cooperat in investigatie sau nu. Cei doi hackeri au obtinut datele de logare ale Apple ID-urilor prin atacuri de tip phishing si cu acces total la aceste conturi au inceput sa blocheze terminalele pentru a obtine bani de la utilizatori.
  Cei doi hackeri sunt rezidenti ai capitalei rusiei, primul avand 17 ani si celalalt 23, unul fiind deja judecat in Rusia pentru fapte similare. Desi un numar mare de utilizatori au fost afectati de aceasta problema, se pare ca autoritatile ruse au facut eforturi pentru a o rezolva extrem de rapid, totul fiind oprit in doar putin peste o saptamana de zile.