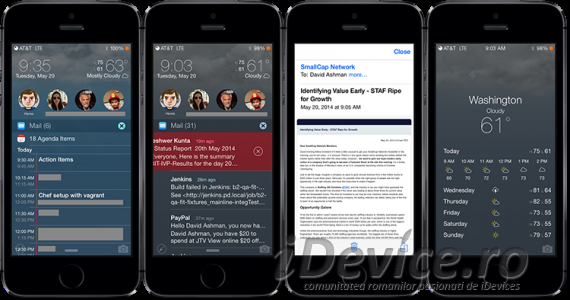 LockInfo7 este unul dintre cele mai importante tweak-uri pentru personalizarea aspectului LockScreen-ului iDevice-urilor noastre, el fiind lansat cu doar cateva saptamani de zile in urma in Cydia. Folosind acest tweak putem inlocui complet interfata standard a LockScreen-ului pentru a afisa orice fel de informatii despre vreme, calendar, reminders, notificari pentru diverse aplicatii, pentru a deschide website-uri si nu numai.
Customize your lockscreen to get the information you need, when you need it. LockInfo gives you access to all of your important information right on your lockscreen. Integrate notifications and widgets back together – no more Today View or Notifications. Everything together, again. Tight integration with the native notification system of iOS. Rich previews of your mail messages and calendar events from your lockscreen.
  Tweak-ul are implementate o serie de widget-uri speciale care afiseaza taote aceste informatii pentru noi, partea buna fiind ca el permite afisarea notificarilor intr-un format mult mai usor de administrat si in plus ofera optiunea de a vedea informatii detaliate despre mesaje sau email-uri fara a mai parasi LockScreen-ul. Mai mult decat atat, el afiseaza wallpaper-uri animate cu informatii despre vreme furnizate in baza locatiei noastre sau a altor locatii.
Enhanced weather widget, plus full forecast weather page and animated weather wallpapers. Improved calendar agenda widget. 
  LockInfo7 este disponibil in Cydia in baza unei perioade de testare de 14 zile, dupa care trebuie cumparat pentru 5$. Lockinfo7 a fost actualizat in cursul acestei seri si este compatibil cu Pangu iOS 7.1.1 jailbreak.