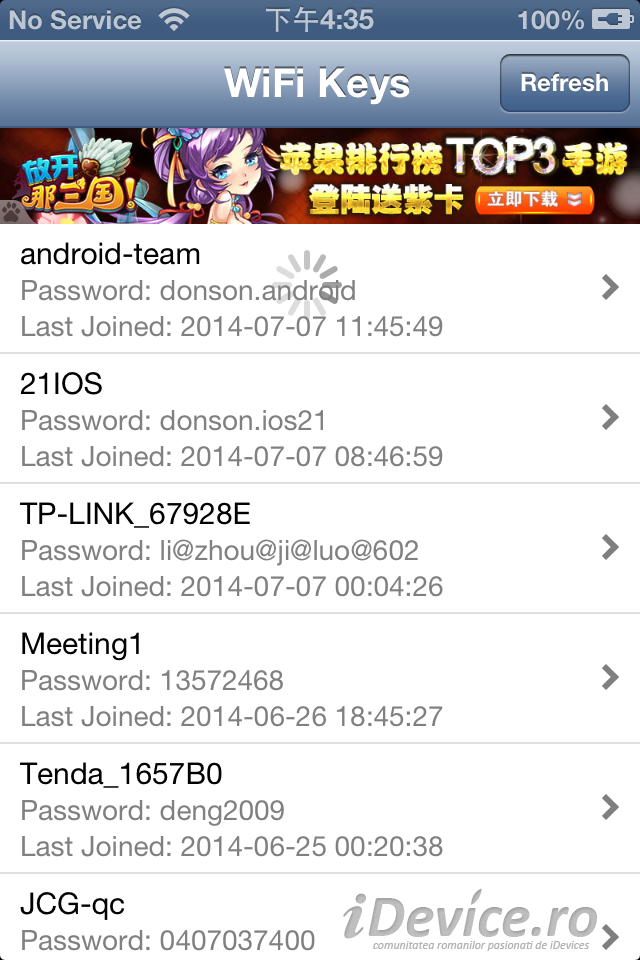 WiFi Keys este o aplicatie disponibila din cursul serii trecute in Cydia pentru iDevice-urile noastre, iar cu ajutorul sau putem vizualiza toate parolele utilizate pentru conectarile facute la hotspot-uri folosindu-ne iDevice-urile. Dupa cum puteti vedea deja din imaginea de mai sus, aplicatia listeaza toate hotspot-urile WiFi, ultima data de conectare la ele si parola utilizata pentru conectarea la ele.
"WiFi Keys" is an app that shows the passwords for wifi connections which have connected . Show all information system wifi connections you have configured on your device. You can see the password of the wifi connections You have in your iPhone. This app does not provide the password of wifi connections if not previously provided .
  WiFi Keys nu poate sparge parolele hotspot-urilor WiFi, ci le poate afisa doar pe cele utilizate deja, asa ca nu va asteptati la o asemenea functionalitate. WiFi Keys este disponibila pentru DOWNLOAD din repo-ul ModMyi al Cydia.