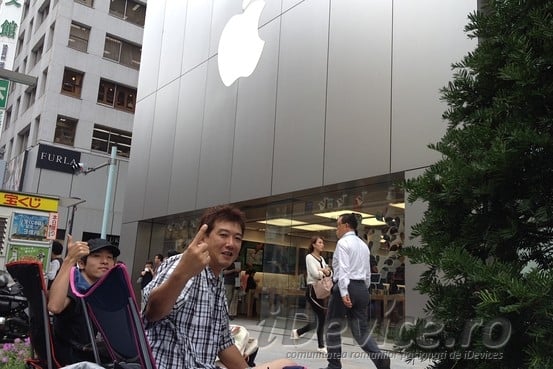 Daca saptamana trecuta aflam ca in New York exista deja persoane care asteapta lansarea iPhone 6 la coada in fata celui mai mare magazin Apple local, iata ca in Tokio se intampla exact acelasi lucru. Acolo in cursul zilelor trecute s-au asezat la coada pentru lansarea iPhone 6 primele persoane interesate sa cumpere dispozitivul, chiar daca probabil ele au fost platite de unele companii locale interesate sa obtina reclama gratuita.
I've been here since Sunday. I am fourth in line. Meals can be purchased at nearby convenience stores and those forming lines will cooperate and take turns taking a bath. I' m hoping the new iPhones will have screens with high pixel density and include NFC.I've got my sources. From what I hear, the new phones are already being shipped. We learned that there were some in New York who started forming lines, so we decided to start our own here as well. I get to be with my son around the clock as well, which is a rare thing. We get to talk a lot. I ask him about his college and what's going on in his life, and also about his girlfriend.
  Nu mai putin de 6 persoane se afla in momentul de fata in fata Apple Store-ului din Tokio pentru a astepta lansarea iPhone 6, printre ei numarandu-se si un tata cu un fiu care se bucura de timpul petrecut impreuna. Persoanele mananca la magazinele apropiate si le folosesc baile la nevoie, tinandu-si unul altuia locul in rand inainte ca Apple sa prezinte iPhone 6 in cursul zilei de maine si sa anunte lansarea iPhone 6 care va fi cel mai probabil pe 19 septembrie.