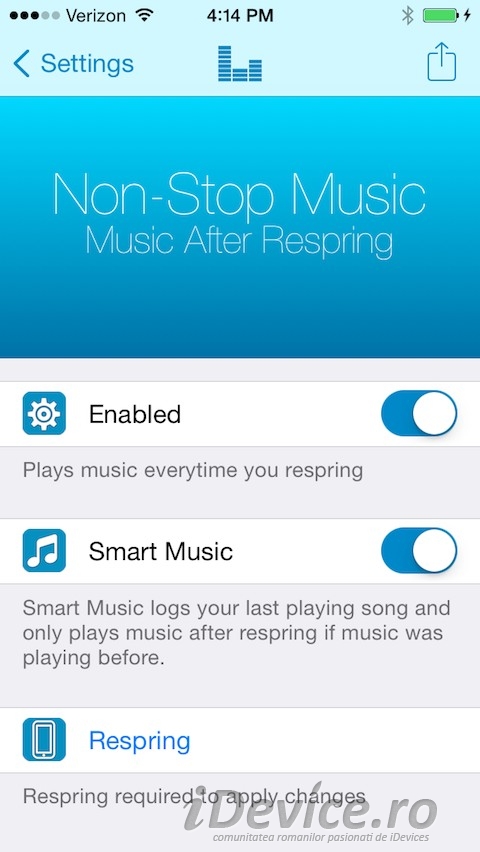 Non-Stop Music este un tweak disponibil din cursul noptii trecute in Cydia pentru iDevice-urile noastre, iar cu ajutorul sau putem implementa o functionalitate extrem de importanta pentru terminalele ce functioneaza in baza platformei iOS. Tweak-ul este gandit pentru a loga ultima melodie ascultata de catre noi folosind aplicatia Music a iDevice-urilor, el repornind automat rularea respectivei melodii prin aplicatie dupa repornirea terminalelor, lucru pe care aplicatia nu il face in mod normal.
Non Stop Music is a new upcoming tweak that allows Music to continue after respring. It is compatible with the stock Music App, the Spotify App, a the Podcasts App. These applications work flawlessly.  NonStopMusic plays music as fast as possible. It is built on a custom engine for saving Music Data. If your phone goes into safe mode, NonStopMusic will continue to play music after exiting it. NonStopMusic is also compatible with Spotify.
  Partea interesanta este ca Non-Stop Music va tine minte ce melodie ascultam chiar si inainte de intrarea in safe mode si poate reporni rularea de muzica inclusiv daca terminalul intra in aceasta stare. Non-Stop Music este disponibil pentru DOWNLOAD la pretul de 1$ in repo-ul BigBoss al Cydia.