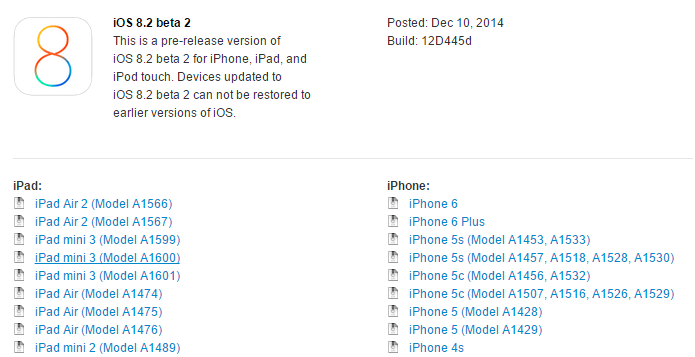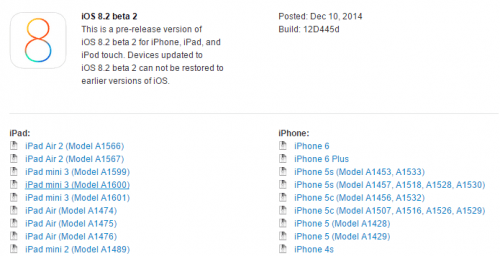 iOS 8.2 beta 2 a fost lansat in cursul serii trecute de catre compania Apple, noua versiune a sistemului de operare fiind in momentul de fata disponibila numai pentru dezvoltatorii de aplicatii pentru platforma iOS. Desi vorbim despre iOS 8.2 beta 2 venit la trei saptamani distanta de prima versiune lansata de catre Apple, din pacate nu avem parte de chiar atat de multe noutati pe cat ne-am fi asteptat, cei din Cupertino rezolvand doar probleme de functionare, fara a implementa alte functii noi.
  In ciuda lipsei noutatilor vizibile pentru iOS 8.2 beta 2, avem totusi un changelog cu noutati oferit de catre compania Apple in portalul dedicat dezvoltatorilor pe website-ul sau, el descriind schimbarile invizibile facute de igninerii celor din Cupertino. Mai jos aveti intreaga lista de noutati conceputa de catre compania Apple pentru a le oferi dezvoltatorilor informatiilor necesare privind schimbarile internet ale iOS 8.2 beta 2, asa ca veti sti exact ce ascunde nou in interiorul sau.
  iOS 8.2 beta 2 poate fi descarcat din portalul dedicat dezvoltatorilor daca aveti un abonament anual de dezvoltator.
iOS 8.2 beta 2 – iata ce aduce nou
Notes and Known Issues

The following issues relate to using iOS SDK 8.2 to develop code.
Wi-Fi Calling (T-Mobile US only)