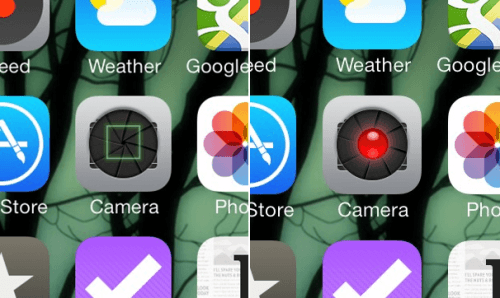 QuickShoot Pro iOS 8 este un nou tweak disponibil in Cydia din cursul noptii trecute pentru cei interesati, el aducand o functionalitate extrem de utila. Mai exact, folosind acest tweak putem inregistra clipuri si poze apasand direct pe iconita aplicatiei Camera vizibile in ecranul principal de aplicatii al iOS 8.
  QuickShoot Pro iOS 8 a fost conceput in ideea de a ne oferi posibilitatea de a inregistra rapid poze fara a mai astepta ca aplicatia Camera sa se deschida. Dupa cum prea bine stiti deja, ati intampinat situatii in care ati ratat momente importante deoarece aplicatia Camera se deschidea greu, insa acest tweak rezolva problema.
QuickShoot Pro certainly lives up to its "pro" moniker. It features tons of options, great animations, and best of all, it serves its purpose well. This update is free for all existing QuickShoot Pro Owners. QuickShoot Pro will ensure you never miss out on a photo opportunity just because you were waiting for a camera app to launch. It enables you to capture photos and videos directly from the home screen.
  QuickShoot Pro iOS 8 permite inclusiv setarea de gesturi care pot fi intreprinse pentru a inregistra pozele, deci nu va trebui sa faceti neaparat swipe-uri pe iconita aplicatiei camera. Mai mult decat atat, el are un meniu de setari care permite personalizarea functionalitatii sale, astfel ca veti putea folosi totul exact cum doriti.
You can also configure Activator shortcuts for them, for ultimate speed. QuickShoot Pro is very customizable — there is a setting for nearly everything you can think of.
  QuickShoot Pro iOS 8 este disponibil pentru cumparare din Cydia la pretul de 1.5$, iar cei care au cumparat deja o versiune anterioara il vor putea descarca gratuit.