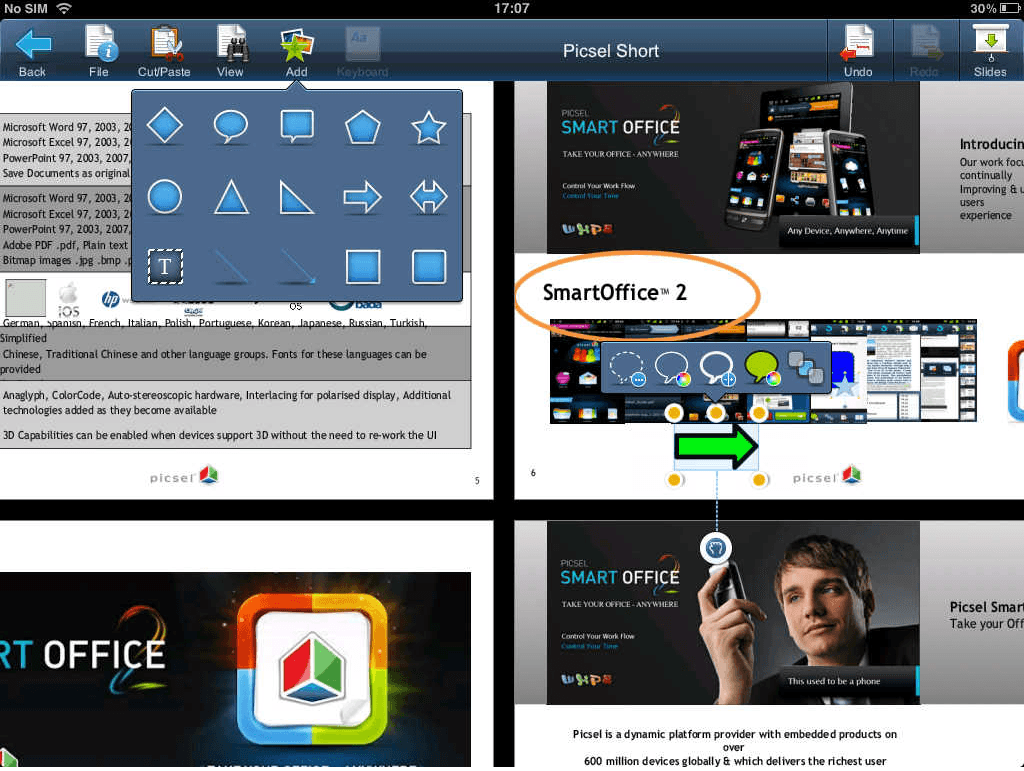 Smart Office 2 este o aplicatie prezentata de mine acum cateva luni de zile cand v-am spus ca prin intermediul ei puteti edita usor si rapid documentele din iDevice-urile voastre. Aplicatia poate citi si edita documente de tip word fara nici cea mai mica problema si poate salva acele documente fie in formatul recunoscut de Microsoft Word, fie in format PDF. Aplicatia are integrate API-urile Dropbox si Google Docs, deci puteti prelua documentele voastre din aceste doua servicii si le puteti vizualiza/edita fara niciun efort.
  Smart Office 2 are urmatoarele functii :
View and edit major office documents.
Edit text directly in your document.
Export to PDF.
Print to thousands of wireless printers, but not all.
Choose fonts, colours, alignment, formatting, move images, and more.
Unique Document Info View.
Visually appealing Timeline View
Send and receive email attachments.
Create and delete files in storage.
Recalculate spreadsheets and update charts with new formulae.
Zoom to any size from multiple-pages-on-screen, to huge.
Slide show presentation.
Cut and paste selections to the special scrap book and system clipboard.
Undo mistakes easily.
Reflow pages to fit screen or use full page layout.
Tablet user interface with easy dialogues.
Phone UI, with multi-touch or single touch gestures.
World's first stereo 3D document viewing.
High performance loading and zooming.
Search for text, and follow hypertext links.
Navigate easily to any page with convenient gestures.
Dropbox file sharing to cloud storage.
Google Docs file sharing for some files, beta
Create new documents from optional templates.
File browsing is convenient and fast.
Save correctly in original format without losing data.
  La final va spun ca aplicatia poate sa si printeze documentele voastre, deci aveti la dispozitie o aplicatie "puternica" care va ajuta sa administrati documentele cu usurinta. Daca in luna mai Smart Office 2 era disponibila pentru 8.99€ in App Store, acum aplicatia poate fi descarcata gratuit si va recomand sa o incercati.

Numele:
Smart Office 2
---
Developer: Artifex Software …
Universala
Categoria: Business
Descriere: View, edit, create, print, and share documents on all your mobile devices.
SmartOffice lets you access Microsoft Office and other documents from anywhere. SmartOffice includes simple tools to create from t…
Dimensiunea aplicatiei este: 24.6 Mb
---