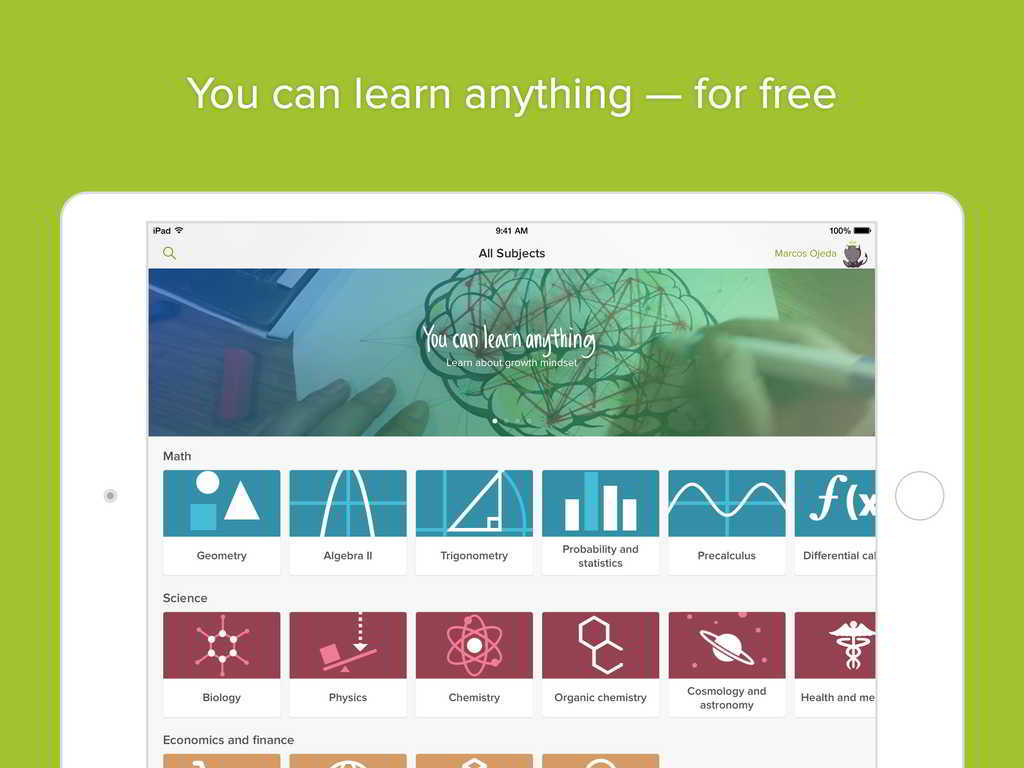 V-am vorbit astazi despre cea mai buna aplicatie a saptamanii in App Store, iar acum a venit timpul sa vorbim si despre Editor's Choice-ul ales de catre compania Apple pentru magazinul sau de aplicatii. Khan Academy este aplicatia aleasa de catre compania Apple pentru promovare, ea fiind capabila sa ne ajute sa invatam rapid informatii despre matematica, biologie, geografie si multe altele.
  Conform dezvoltatorilor, aplicatia Khan Academy contine nu mai putin de 150.000 de exercitii interactive din diverse materii scolare, ele fiind disponibile gratuit. Aproape toate materiile scolare sunt "acoperite" de exercitii si informatii in aceasta aplicatie, toate dintre ele fiind disponibile pentru descarcare gratuita in orice tableta iPad.
Sharpen your skills: over 150,000 interactive, Common Core aligned math exercises are included with instant feedback and step-by-step hints. Follow along with what you're learning in school or practice at your own pace.
Flex your muscles: the app adjusts to give you interactive exercise recommendations that are tailored just for you through the world of math.
Show your work: the app harnesses the power of writing down your thoughts as you problem-solve with a beautiful, expansive scratchpad. Once you have your answer, just write it in, and we'll recognize your handwriting (powered by MyScript)!
Track your learning: your learning auto-magically syncs between your iPad and khanacademy.org, so your progress and recommendations are always up-to-date, anywhere, anytime.
  Separat de cele 150.000 de exercitii ce pot fi descarcate, aplicatia Khan Academy are disponibile si 5000 de clipuri video care va invata cum sa le rezolvati, deci veti invata totul rapid. Clipurile video pot fi descarcate pentru vizualizare offline, sau pot fi vizualizate prin streaming pe internet, astfel ca le puteti urmari oricand.
  Practic Khan Academy se vrea a fi un profesor virtual pentru cei care doresc sa invete mai mult decat ceea ce li se preda la scoala, astfel ca veti avea ocazia sa deveniti mai inteligenti folosind i simpla aplicatie. Desi toate exercitiile sunt disponibile in limba engleza, unele dintre ele sunt aplicabile inclusiv in Romania, asa ca le puteti descarca fara probleme.
Learn using videos, interactive exercises, and in-depth articles in math (arithmetic, pre-algebra, algebra, geometry, trigonometry, statistics, calculus, linear algebra), science (biology, chemistry, physics), economics, and even the humanities with playlists on art history, civics, finance, and more.
  Aplicatia Khan Academy este disponibila pentru DESCARCARE GRATUITA in format universal din App Store Romania.