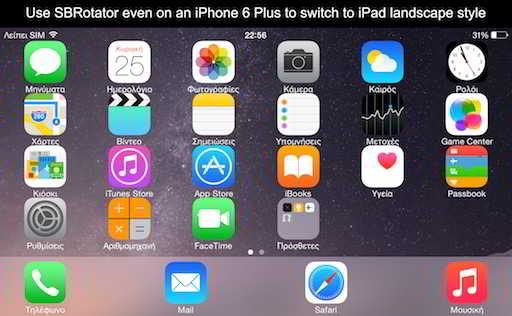 SBRotator for iOS 8 este versiunea pentru iOS 8 a unui tweak lansat cu mai bine de un an si jumatate de zile in Cydia, el fiind conceput in ideea de a ne permite sa folosim orice ecran al sistemului de oeprare in landscape mode. SBRotator for iOS 8 implementeaza doua moduri de rotire a ecranelor terminalelor noastre, unul inspirat din sistemul folosit pentru iPhone 6 Plus, altul inspirat din cel utilizat pentru iPad. In primul caz dock-ul va fi afisat in partea dreapta a ecranului, in cel de-al doilea dock-ul fiind afisat in partea inferioara a ecranului, asa ca aveti suficiente optiuni cu privire la utilizarea sa.
It now gives you the option to choose between 2 landscape styles, iPhone 6 Plus style (dock on the right side) or iPad style (dock at the bottom). Use iPhone 6 Plus style or iPad style rotation on iPhone 4S, iPhone 5/5C/5S, iPhone 6 and any iOS 8 iPod. You can even use it on an iPhone 6 Plus, that already rotates natively, to change from the dock-on-the-side style to dock-at-the-bottom style, or even on an iPad , to rotate SpringBoard just like iPhone 6 Plus does!
  Separat de aceasta functionalitate, tweak-ul implementeaza functia de a utiliza orice aplicatii native, sau Twitter ori Facebook, in landscape mode, deci veti avea parte de o experienta de utilizare complet noua. SBRotator for iOS 8 este disponibil la pretul de 3$ in repo-ul BigBoss al Cydia.