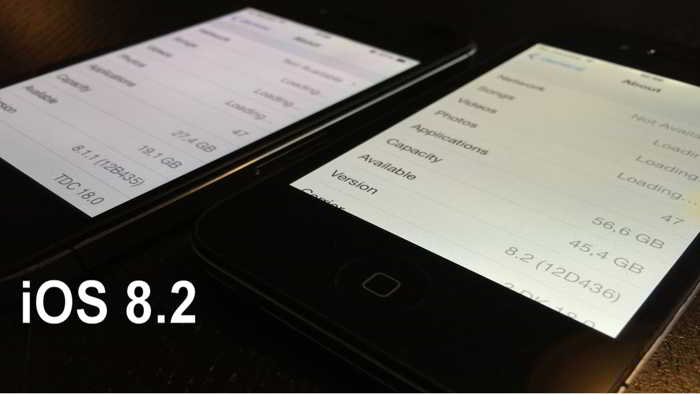 iOS 8.2 a fost lansat cu doar cateva momente in urma de catre compania Apple, la mai putin de o ora dupa ce Tim Cook ne-a promis disponibilitatea sa pentru terminalele noastre. Apple Watch era principalul motiv pentru Apple Apple lansase primele versiuni beta ale iOS 8.2, insa saptamana trecuta am vazut lista intreaga de noutati iOS 8.2 si ne-am lamurit ca la mijloc este mai mult decat atat. Dupa cum puteti vedea mai jos, Apple a rezolvat o multitudine de probleme in iOS 8.2 si acum toate aceste bug fix-uri sunt disponibile pentru noi prin instalarea update-ului.
  V-am spus inca de saptamana trecuta ca iOS 8.2 nu mai permite efectuarea de jailbreak pentru terminalele voastre, astfel ca nu trebuie sa va asteptati la asa ceva, deoarece nimeni nu stie cand va fi posibil. iOS 8.2 poate fi instalat prin intermediul sistemului Actualizare Software, Software Update, din iPhone, iPad si iPod Touch, ori prin intermediul iTunes si a unui PC.
Health App improvements
Adds the ability to select the unit of measurement for body temperature, weight, height, distance, and blood glucose
Improves stability when dealing with large amounts of data
Includes the ability to add and visualise workout sessions from 3rd-party apps
Addresses an issue that may have prevented users from adding a photo in Medical ID
Fixes units for vitamins and minerals
Fixes an issue where Health data wouldn't refresh after changes data source order
Fixes an issue where some graphics showed no data values
Adds a privacy setting that enables turning off tracking of steps, distance, and flights climbed
Stability Enhancements
Increases stability of Mail
Improves stability of Flyover in Maps
Improves stability of Music
Improves VoiceOver reliability
Improves connectivity with Made for iPhone Hearing Aids
Bug Fixes
Fixes an issue in Maps that prevented navigating to some favorite locations
Addresses an issue where the last word in a quick reply message wasn't autocorrected
Fixes an issue where duplicate iTunes purchased content could prevent iCloud restore from completing
Resolves an issue where some music or playlists didn't sync from iTunes to the Music app
Fixes an issue where deleted audiobooks sometimes remained on the device
Resolves an issue that could prevent call audio from routing to car speakers while using Siri Eyes Free
Fixes a Bluetooth calling issue where no audio is heard until the call is answered
Fixes a timezone issue where Calendar events appear in GMT
Addresses an issue that caused certain events in a custom reoccurring meeting to drop from Exchange calendar
Fixes an certificate error that prevented configuring an Exchange account behind a third-party gateway
Fixes an issue that could cause an organizer's Exchange meeting notes to be overwritten
Resolves an issue that prevented some Calendar events from automatically showing as "busy" after accepting an invite.