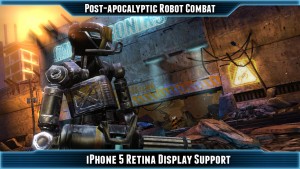 EPOCH. este un shooter lansat in cursul anului trecut in App Store-ul copaniei Apple, fiind unul dintre putinele jocuri in care nu trebuie sa omoram zombies, ci trebuie sa distrugem armate intregi de roboti.
Intreaga actiune are loc intre lume post-apocaliptica in care robotii au inlocuit rasa umana dupa un razboi ce a cuprins intreaga planeta.
Rolul vostru in joc este de a utiliza arsenalul pus la dispozitie pentru a distruge toti inamicii care va ies in cale, iar cateva ore de gameplay sunt disponibile pentru a va ajuta sa va indepliniti misiunea.
UNRAVEL THE MYSTERY. Follow the echoes of a lost civilization in a visually-stunning post-apocalyptic world where only robots survive to fight a never-ending war. Fight towards your goal and piece together the fragments to reveal exactly what happened when the old world ended. Is this the dawn of a new Epoch? And how can you find the one person you were originally assigned to protect?
CHOREOGRAPH THE ACTION. Control your character with intuitive finger swipes. Make split-second tactical decisions, take cover, select targets, dodge incoming fire, utilize special abilities, and launch countermeasures!
DESTROY, SALVAGE AND UPGRADE. Battle escalating waves of robots in arena-style combat, and upgrade yourself with pieces torn from your fallen enemies! Configure your robot with dozens of weapons, armors, boosters and counters.
IMMERSIVE SINGLE-PLAYER CAMPAIGN. Fight in multiple locations across a vast and ravaged city, and gather fragments of the past with logs from a cast of characters, each with their own perspective on the apocalyptic events that destroyed a once-proud civilization.
STUNNING AAA VISUALS. Utilize the enhanced visual capabilities of the iPhone4S and iPad 2 with high-resolution graphics powered by the UnrealEngine, the same engine used to create the visuals of the award winning Infinity Blade.
  EPOCH. poate fi DESCARCAT la PRET REDUS in format universal pentru o perioada limitata de timp.