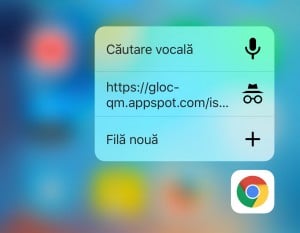 Aplicatia Google Chrome este aplicatia dezvoltata de catre compania Google pentru posesorii de terminale iPhone, iPad si iPod Touch, ea fiind lansata in App Store cu mai bine de un an de zile in urma.
In cursul acestei seri aplicatia Google Chrome a fost actualizata de catre compania Google, cei din Mountain View implementand suport pentru sistemul 3D Touch, dar si mai multe scurtaturi pentru tastatura virtuala care pot fi utilizate direct din aplicatie.
Added support for more keyboard shortcuts. Now you can do more with your Bluetooth keyboard like opening, closing and changing tabs or conducting a voice search.
Support for 3D touch on iPhone 6s/+. Force touch the Chrome icon to quickly open a new tab, a new incognito* tab, or conduct a voice search
Aplicatia Google Chrome pentru iOS este disponibila pentru DOWNLOAD GRATUIT, in format universal, in App Store.