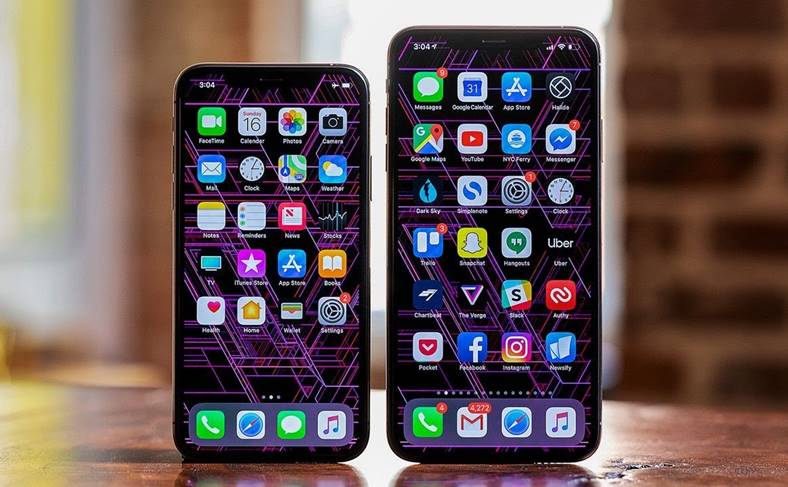 iPhone XS si XS Max au parte astazi de primele review-uri publicate de catre jurnalistii care au primit telefoanele pentru testare de la compania Apple, iar impresiile nu sunt chiar atat de bune precum par la o prima vedere. Majoritarea le recomanda celor care au cumparat iPhone X sa nu se "oboseasca", si sa "sara" peste iPhone XS, iar asta din cauza faptului ca imbunatatirile sunt minore in comparatie cu modelele lansate in cursul anului trecut.
iPhone XS a fost lansat cu iPhone X scos din oferta celor de la Apple, iar asta probabil pentru ca diferentele sunt atat de mici, incat lume n-ar mai fi cumparat noile modele, ci pe cel vechi, la un pret mai rezonabil. Daca oamenii care au iPhone X n-ar trebui sa se uite la seria iPhone XS, cei care au modelele mai vechi primesc recomandarea de a se orienta spre iPhone XR, un telefon mult mai ieftin, si cu multe dintre aceleasi functii.
iPhone XS/Max: Primele REVIEW-URI anunta Ecranul OBSCEN de MARE
iPhone XS Max este totusi laudat pentru ecranul mult mai mare, si considerat un adevarat motiv de upgrade de la iPhone X, sau oricare alte modele mai vechi, ceea ce probabil toata lumea stia deja oricum. E surprinzator cum multi dintre jurnalistii americani nu recomanda iPhone XS si iPhone XS Max in comparatie cu iPhone X, desi spun ca sunt cele mai bune modele de telefoane facute pana acum de catre compania Apple, dar nici prea mult in comparatie cu modelele mai vechi.
iPhone XS si iPhone XS Max vor fi "eclipsate" de catre iPhone XR din cauza pretului mult mai mic pe care acel model il va avea, dar si a functiilor foarte apropiate de cele care sunt oferite in modelele de top. Desigur ca Apple si-a asumat aici un risc facand o serie de calcule serioase cu privire la impactul pe care-l va avea lansarea iPhone XS si iPhone XS Max impreuna cu iPhone XR, iar in final ea va face oricum bani serios de pe urma clientilor.
They're the best iPhones Apple has ever made […] but apart from the bigger screen on the Max, I've had a hard time really noticing a huge improvement over last year's iPhone X, which I still love. And if you want to save some money, you should wait for Apple's more affordable model — the iPhone XR […] The speakers sound awesome. They're louder than the iPhone X, and Apple also worked to tune the stereo sound so that audio sounds wider or more narrow, depending on the scene. I liked that I could take portrait pictures, like shots of my dog on the beach, and adjust the background blur after the fact.
It can sit in 3 feet of water for up to 30 minutes, like Samsung's latest phones. I didn't want to ruin my test unit, but left it in a fountain about 1 foot deep for 5 minutes and it was totally fine after I took it out. That's better than the iPhone X, too, which could withstand spills and splashes but shouldn't really spend much time in water. Lastly, the battery life is really good on the iPhone XS and iPhone XS Max."
"The good: The iPhone XS has a markedly improved dual camera, delivering better photos than the iPhone X in both dark and high-contrast environments. It has a faster processor, faster face ID, adds dual SIM support and it's now available in gold and 512GB versions. The bad: Its battery life is the shortest of the three new iPhones and only incrementally better than last year's. Despite its still-rich price tag, key extras such as increased storage, USB-C fast chargers and headphone dongles will have you spending even more.
The bottom-line: The iPhone XS adds some impressive camera improvements to the already-great iPhone X. But you should seriously wait and see what the lower-priced XR coming in October is like."
"I have no doubts the iPhone XS Max's massive 6.5-inch OLED display will be the one everybody wants, but both it and the smaller iPhone XS have feature upgrades, like an all-new camera system that takes better photos than even the best Android phones. Those shouldn't be overlooked because they're mere internal improvements […] If you've got an iPhone X and don't care about a larger screen or better camera performance, you'll survive just fine another year or two with it, especially with iOS 12.
If the prices are still a turn-off, consider holding off until the iPhone XR launches in late October; it starts at $749 and has virtually all of the iPhone XS and iPhone XS Max features minus the superior OLED screens and secondary rear camera. Plus it comes in colors like blue, red, yellow, and coral."
"For the past few years, I have been a naysayer on one feature of smartphones: their growing size. These devices spend a lot of time in your pocket and your hand, and there are often compromises in portability and comfort when the screens balloon in size. For those reasons, I never liked the Plus phones, the line of iPhones that Apple introduced in 2014 with 5.5-inch screens. They felt impossible to use with one hand and far too bulky in a pocket.
So it's humbling to come to you now with another confession: The iPhone XS and the iPhone XS Max may be making me a convert to bigger smartphones […] I still think the smaller XS is a better fit for most people, but many would enjoy the XS Max […] I encourage you to try before you buy. It may not hurt to wait for the XR's release next month so you can test all three in a store. Play with the cameras and pay close attention to how each phone feels in one hand and inside your pocket.
It's important that you find the right fit: Since you have to pay so much for your next iPhone, you will probably live with it for a long time. And who knows? You might assume you will dislike a bigger screen and then change your mind — just as I did."
"The iPhone XS is, obviously, the best that Apple's ever created – that's no surprise, as it's the new flagship iPhone. However, the question is whether Apple has done enough to make this the most attractive to buy, and whether it's enough to stop anyone moving to a competitor. The iPhone XS is good enough in many ways, but it's not much of an upgrade over 2017's X, and doesn't redefine anything the way last year's phone did – the main upgrade is the camera, with Smart HDR making a difference.
If the iPhone XR didn't exist, we'd suggest that you go out and get the iPhone XS as the cost doesn't really plummet that much over the course of the year – so if you can afford it now, then go for it.However, the iPhone XR offers a lot if similar features: large display, A12 Bionic chipset, iOS 12, TrueDepth camera on the front – and it's much cheaper (without still being that cheap)."
"The iPhone XS Max, the biggest and most expensive of Apple's trio of new phones, is the logical conclusion of smartphone gigantism. It is more of everything: more screen, more battery, and more damaging to your bank account: you pay a minimum of £1,099 for it […] I can't help but like the titanic Max, and its jumbotron display. This is the "give me everything" iPhone, tailor-made for these indulgent times […]
[Unless you want the size] I would recommend that most people wait for the cheaper iPhone XR, which comes out next month and on the face of it seems like it delivers more bang for your buck."
"It's obscene. No, I'm not talking about the price, although $1,099 is a lot to pay for a smartphone. I'm referring to the mammoth display on the iPhone Xs Max. At 6.5 inches, this thing is like a mini movie theater you carry around in your pocket. The 5.8-inch iPhone Xs ($999) has all the same enhancements as its supersize sibling, including a faster A12 Bionic processor that blows away Android phones (again), as well as improved cameras with Smart HDR and impressive bokeh controls. But it's the Xs Max that I didn't want to put down […]
If you've been holding off on upgrading your iPhone 7 or iPhone 6s, either one of these handsets will feel like a huge leap forward. The cameras are miles better — especially in low light — and the A12 chip provides a big speed boost. Between the two, I'd opt for the iPhone Xs Max because of its bigger and more immersive 6.5-inch display and longer battery life […] Some may prefer to wait for the iPhone XR coming in October, which will offer nearly all of the great features in the iPhone Xs and iPhone Xs Max for $750, but if you want a superior OLED display, dual rear cameras and less bezel, I'd splurge on the iPhone Xs Max for it's even bigger screen."
"Good stuff: Terrific display, great speakers, long battery life. Bad stuff: Camera not as good as the Pixel 2, Portrait Mode extremely hit and miss, expensive. These are still expensive phones: the iPhone XS starts at $999, and the top of the line iPhone XS Max with 512GB of storage will cost you $1449. That's a lot of money. I am sure some people will find it ridiculous, while others will have already happily pre-ordered.
I would not rush out to spend another $999 on the XS if you have an X, but if you're already deep into a pre-order, don't worry: you will love the iPhone XS. It is indeed, more iPhone, and it will probably hold up for years to come. I definitely prefer the Pixel 2's camera, but the iPhone XS isn't that far behind, and it's still a significant improvement over previous iPhones. For everyone else, I think it's worth waiting to see how the iPhone XR turns out before rushing in — it has the same processor and the same main camera for $750. The only major question is how good its 6.1-inch LCD will look in comparison to the the XS's OLED. But for that, we'll just have to wait and see next month."
"Unless you are in an iPhone upgrade program or absolutely dying for that Max screen, don't jump from the X to the XS. Going back to last year's model, I missed the speed boost a bit, but not enough to drop another grand or more […] If you are upgrading from any of the smaller iPhones of the past few years, the XS and XS Max cameras will be a big leap. (Both XS models have the new dual cameras.) If you're considering going from the X or the iPhone 8 Plus to the XS because of cameras, though, it's more of a mini hop […]
Both the XS and XS Max have what Apple says is "the most durable glass in the world." That said, my XS Max review unit cracked after a minor fall onto wood. All these glass slabs still need protection. [Older iPhone owners] keep your wallet closed. See you in a month with the XR review."