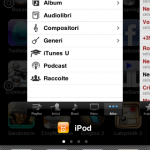 Va prezentam zilele trecuta noua aplicatie pentru multitasking pe iPhone, ProSwitcher, developata de unul din membrii Dev Team, chpwn si creatorul aplicatiei Overboard, Ryan Petrich. Nu o sa reiau tot ce am spus acolo, o sa va spun totusi ca aplicatia a ajuns in mainile celor de la iSpazio.net care s-au jucat putin cu ea, desi aplicatia inca nu a fost lansata oficial. Aplicatia functioneaza pe aceleasi principii ca si Multifl0w, doar ca aduce si unele imbunatatiri sistemului de management al aplicatiilor deschise. In primul rand, ProSwitcher este foarte customizabila, beneficiaza de o serie intreaga de optiuni, dupa cum veti vedea si in poze, interfata grafica fiind total schimbata fata de Multiflow, aplicatiile deschise aparand pe ecran deasupra dock-ului, lasand dock-ul accesibil utilizatorului in cazul in care doreste sa lanseze vreuna din aplicatiile de acolo. Navigarea prin manager se face utilizand swipe-ul, la fel ca navigarea prin paginile din Springboard, iar aplicatia va da posibilitatea sa setati nivelul de transparenta pentru o mai buna vizibilitate a aplicatiilor deja deschise in contrast cu aplicatiile de pe paginile din Springboard.
Lista de noutati este destul de consistenta, si din punctul meu de vedere, merita trecerea de la Multifl0w :
Closing date for applications in the background via a swipe on preview

Chiusura di un'applicazione cliccando sulla (X) posta in alto a sinistra

Closing an application by clicking on the (X) at the top left

Possibilità di mostrare o nascondere il Dock

Ability to show or hide the Dock

Dim Background per scurire lo sfondo sottostante in maniera tale da dare maggiore visibilità alle anteprime del multitasking

Dim background to darken the background below so as to give greater visibility to the previews of multitasking

Possibilità di visualizzare o nascondere il nome dell'applicazione

Ability to display or hide the name of the application

Possibilità di visualizzare o nascondere i puntini segna-pagine

Ability to show or hide the marks-dots pages

Possibilità di impostare uno sfondo di background e tanto altro ancora.

Ability to set a background wallpaper and much more.


Inca nu se stie data oficiala a lansarii insa se preconizeaza ca pana de Craciun va fi disponibila in Cydia, contra cost desigur.
UPDATE :