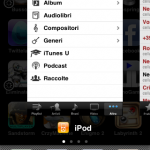 Stiu ca multi dintre voi asteapta cu sufletul la gura lansarea aplicatiei pentru multitasking dedicata iPhone-ului, ProSwitcher, asa ca am pla cerea sa va anunt ca incepand de astazi, o versiune beta a aplicatiei a fost facuta disponibila pentru download in Cydia.
Nu o sa reiau toate detaliile in legatura cu aplicatia, le stiti deja si daca nu le stiti le puteti citi in post-ul meu anterior, o sa insir doar lista de features si demo-ul aplicatiei :
Closing date for applications in the background via a swipe on preview
Closing an application by clicking on the (X) at the top left
Ability to show or hide the Dock
Dim background to darken the background below so as to give greater visibility to the previews of multitasking
Ability to display or hide the name of
Ability to show or hide the marks-dots pages
Ability to set a background wallpaper and much more.
Dupa cum spuneam si in titlu, aplicatia a devenit disponibila pentru download incepand de aseara, pentru a o downloada adaugati repo-ul : http://booleanmagic.com/repo in Cydia. Daca nu stiti cum sa il adaugati, aveti un tutorial aici.