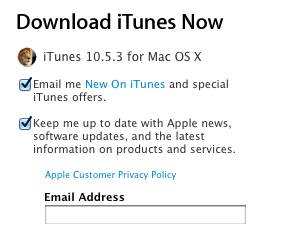 Dupa iBooks 2 Apple a publicat si o noua versiune a iTunes, mai exact versiunea 10.5.3 este acum disponibila pentru download. Aceasta noua versiune a iTunes ar trebui sa nu afecteze jailbreak-ul facut cu vreuna dintre solutiile disponibile acum. Noua versiune a programului iTunes aduce noutati doar pentru cei din SUA unde exista carti special concepute pentru aplicatia iBooks 2. Apple specifica in changelog-ul iTunes faptul ca versiunea 10.5.3 permite utilizatorilor sa sincronizeze cartile interactive special concepute pentru iBooks 2.
iTunes 10.5.3 allows you to sync interactive iBooks textbooks to your iPad. These Multi-Touch textbooks are available for purchase from the iTunes Store on your Mac or from the iBookstore included with iBooks 2 on your iPad.

iBooks textbooks are created with iBooks Author — now available as a free download on the Mac App Store.
  Noul program este disponibil acum pentru download pe site-ul companiei Apple.