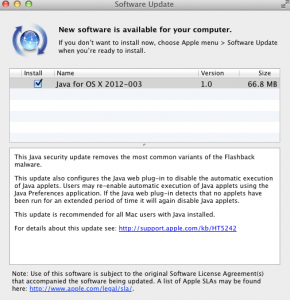 Apple a promis ca va rezolva problemele troianului Flashback si iata ca in cursul serii trecute a facut acest lucru prin lansarea unui update pentru Java. Noul update este disponibil prin intermediul sistemului Software Update din Mac OS X si este cel de-al treilea disponibil in ultimele doua saptamani. Acest update verifica Mac-urile pentru a descoperi eventuale copii ale troianului Flashback si pentru a le sterge insa el dezactiveaza si executarea automata a applet-urilor Java. Utilizatorii pot oricand sa reactiveze aceasta functie din System Preferences insa deocamdata este bine sa o lasati dezactivata.
This Java security update removes the most common variants of the Flashback malware.

This update also configures the Java web plug-in to disable the automatic execution of Java applets. Users may re-enable automatic execution of Java applets using the Java Preferences application. If the Java web plug-in detects that no applets have been run for an extended period of time it will again disable Java applets. Java for OS X Lion 2012-003 delivers Java SE 6 version 1.6.0_31 and supersedes all previous versions of Java for OS X Lion.

This update is recommended for all Mac users with Java installed.

For details about this update see: http://support.apple.com/kb/HT5242
  Puteti instala update-ul prin intermediul Software Update, el avand nu mai putin de 67 MB.