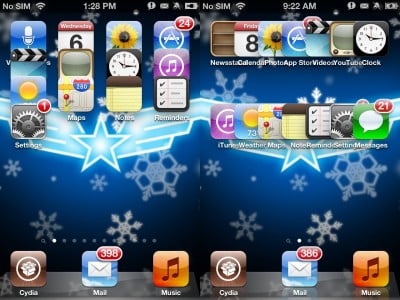 SpringRolls este un tweak ce a fost lansat in cursul acestei zile in Cydia, iar cu ajutorul sau puteti personaliza modul in care sunt afisate aplicatiile voastre in Springboard. Tweak-ul are un meniu de optiuni in aplicatia Settings din iOS, iar acolo puteti alege daca iconitele voastre sunt afisate pe randuri orizontale/verticale, puteti seta numarul maxim de iconite pentru fiecare rand, distanta dintre randuri, puteti seta numarul maxim de iconite al unei pagini, plus multe altele. Dupa ce terminat de modificat iconitele din meniul central al Springboard-ului puteti trece la dock deoarece tweak-ul va permite sa setati numarul maxim de iconite afisate in dock, distanta dintre ele, sau daca vreti puteti sa le schimbati pe cele default cu altele disponibile in tweak.
SpringRolls tweaks is a awesome tweak for those who love their SpringBoard. SpringRolls can do many icon layouts on your screen because you are incontrol of how many Rows and Columns you would like in your SpringBoard's Page! SpringRolls also comes with this handy feature where you can select how many max icons you would like on the page, so when the max limit is reached it will put the next icon to the next page, giving it a awesome layout of your pages and dont have to then place icons to get that same look, its done for you! SpringRolls also has a custom number of dock icons you can choose from, playin around with these can give you all sorts of dock icons layouts.
  Daca totusi SpringRolls nu v-a convins pana acum, atunci poate optiunile care permit setarea de animatii pentru foldere si badge-uri va vor determina sa celtuiti 1$ pentru a va achizitiona pachetul din Cydia. SpringRoll functioneaza pe orice versiune a iOS 5.x si teoretic ar trebui sa il puteti instala pe orice iDevice-uri.
SpringRolls also comes with folder animations! now what tweaks ever did this before? thats right! have your folders icons fade, spin and more. SpringRolls also comes packed with some Badge animations! isntead of that boring look to your badges, now they come packed with new awesome animations that has never been tweaked like this before. SpringRolls also comes packed with a few goodies such as being able to Disable the Dock to get the max out of your icon layout, and can make your apps's delete button into a nice red one!