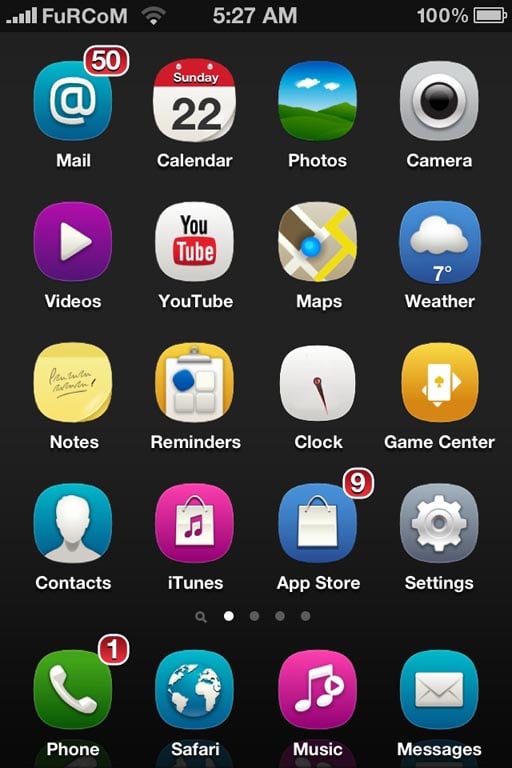 iMeeGo este un tweak pentru platforma iOS care promite sa ne transforme interfata iDevice-urilor in cea asemanatoare cu a sistemului de operare MeeGo OS. Acest sistem de operare dezvoltat de catre Nokia si implementat in terminalul Nokia N9 este apreciat de foarte multi utilizatori, inclusiv de mine, iar acum il puteti avea chiar pe propriul iPhone. De indata ce instalati tema schimbati o marte parte din UI-ul iOS-ului vostru, pachetul avand incluse o serie intreaga de tweak-uri care potenteaza functionalitatea iDevice-urilor noastre.
An amazing theme for iOS you have never seen before. iMeeGo is a very unique looking theme. With this theme on your iPhone you'll feel like holding another device in your hands. Just try it and i think/hope you'll love it 🙂 I spent a lot of time in this theme. It was very hard for me !!! This theme looks much better with Adam Bell's tweak called <a href="cydia://package/me.adambell.blackout ">Blackout</a>. I recommend you to install his tweak !!!

iMeeGo comes preloaded with:

Clockify

WeatherIcon
Lock Screen
Dial Pad (Phone)
Music Player (iPod) [Available colors: blue & black]
System wide User Interface
Messages
Switcher (Icons, Badges, iPod, etc.)
Springboard (with iMeeGo icons)
Auto App mask for App Store and Springboard
Some customized Cydia app icons

*** Color Keyboard Theme with iMeeGo Style coming soon (See Screenshots below…) **
  iMeeGo functioneaza cu ajutorul temei Winterboard si este compatibila numai cu iPhone 4/4S, iar in Cydia o gasiti in repo-ul BigBoss.