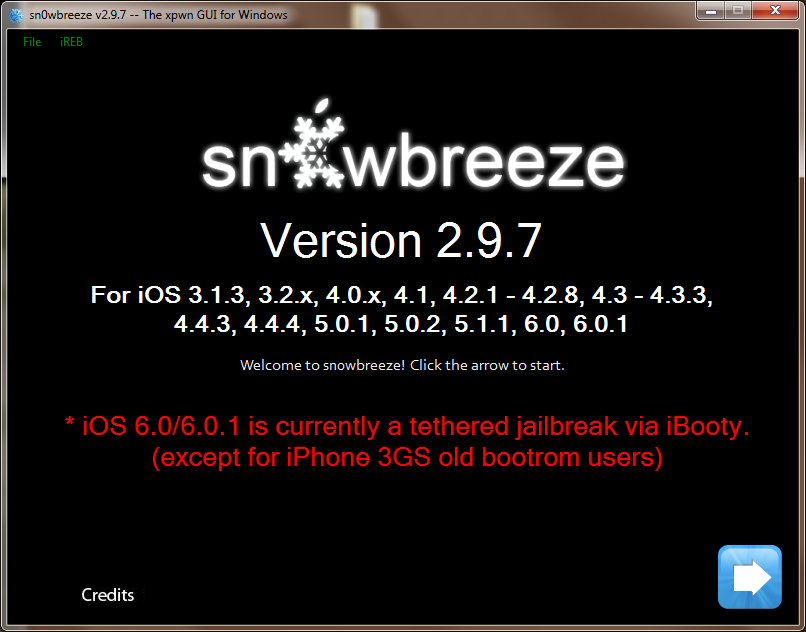 In cursul acestui weekend iH8sn0w a actualizat programul cu ajutorul caruia putem face jailbreak si custom ipsw-uri pentru iPhone 3GS si terminalul iPhone 4. sn0wbreeze 2.9.7 este acum compatibil cu iOS 6 si iOS 6.0.1, iar cu ajutorul programului puteti face un custom ipsw hacktivat care pastreaza intact baseband-ul terminalelor voastre. sn0wbreeze are integrat si SAM care va permite sa folositi tichete de activare pentru iPhone-uri, deci puteti face si decodare daca aveti tichetele salvate.
Added 6.0 (10A403)/6.0.1 (10A523) support. (Only includes iPhone 3GS & A4 devices).
The 6.0/6.0.1 is currently a tethered based jailbreak via iBooty (except for iPhone 3GS old bootrom users).
SAM is built-in for iOS 6 hacktivations. (Hacktivated phones can reboot to a semi-tethered state after being activated [rather than just hang at the Apple Logo]). Kudos @sbingner!
  Din pacate programul iREB nu este compatibil cu iOS 6/6.0.1, insa puteti folosi sn0wbreeze pentru a porni un iPhone 3GS/4 tethered, cel putin pana cand iREB va fi actualizat. La final va spun ca iPhone 3GS cu bootrom vechi poate fi untethered jailbroken, pentru iPad nu puteti actualiza baseband-ul daca faceti restore de la 4.0 – 4.2.1, iPod Touch 2G nu poate face restore la 4.x, iar pe Windows 8 nu puteti folosi programul. Puteti descarca sn0wbreeze 2.9.7 de aici, insa tot ceea ce face el puteti face si cu redsn0w.
Due to some changes in iOS 6, the current public standalone version of iREB will NOT enter a proper PWNED DFU state for restoring to custom iOS 6 IPSWs. An update for the standalone version should come sometime this week. In the meantime, use the iREB tab located in sn0wbreeze's top status bar to enter a proper PWNED DFU state.