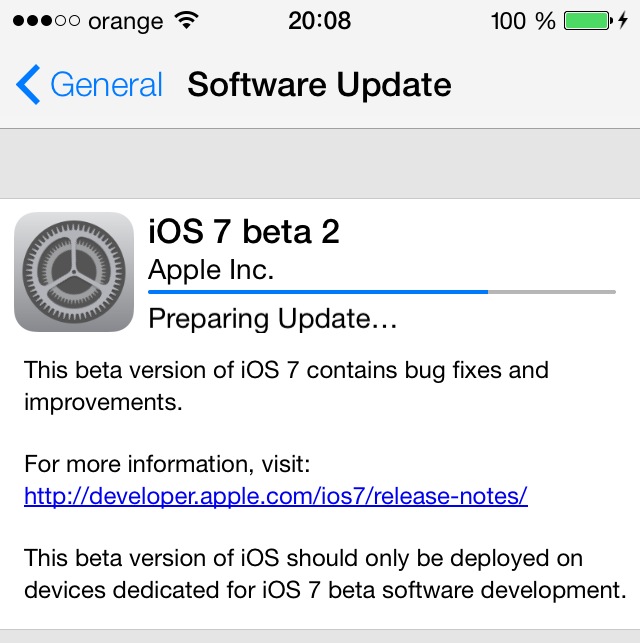 In cursul serii trecute Apple a lansat iOS 7 beta 2 pentru dezvoltatorii de aplicatii pentru platforma iOS, iar daca sunteti interesati sa vedeti informatii detaliate despre tot ceea ce a modificat Apple, atunci mai jos aveti changelog-ul publicat de catre companie pentru dezvoltatorii sai. Separat de el, puteti citi in acest articol si modificarile descoperite pana acum de catre utilizatori.
Notes and Known Issues

The following issues relate to using iOS SDK 7.0 to develop code.
WebKit

Notes

Previously, when the viewport parameters were modified, the old parameters were never discarded. This caused the viewport parameters to be additive.For example, if you started with width=device-width and then changed it to initial-scale=1.0, you ended up with a computed viewport of width=device-width, initial-scale=1.0.In iOS 7, this has been addressed. Now you end up with with a computed viewport of initial-scale=1.0.
Previously, when using <meta name="viewport" content="initial-scale=1.0, user-scalable=1″>, the scale could be incorrect after rotation.Now, if a user has not scaled the page explicitly, the page is restored to its initial scale. Also, the current scale is now correctly restricted within the min-scale, max-scale bounds.
Some images for Retina display devices appear at twice the size that they should instead of being scaled down 50%. This issue can also occur with any image to be scaled that is larger than its container and that uses either the background-size property or the -webkit-background-sizeproperty. This issue affects both native apps that display web content and web pages viewed in Safari for iPhone.The background CSS shorthand property now resets the value of the background-size property to auto when background size is not specified. This new behavior is per the CSS spec, and the old behavior is available only for apps linked to an SDK prior to iOS 7.0 when running on iOS 7 or later.Workaround: Specify the background-size property or the -webkit-background-size property after the background shorthand property in the CSS stylesheet for the web content being displayed.