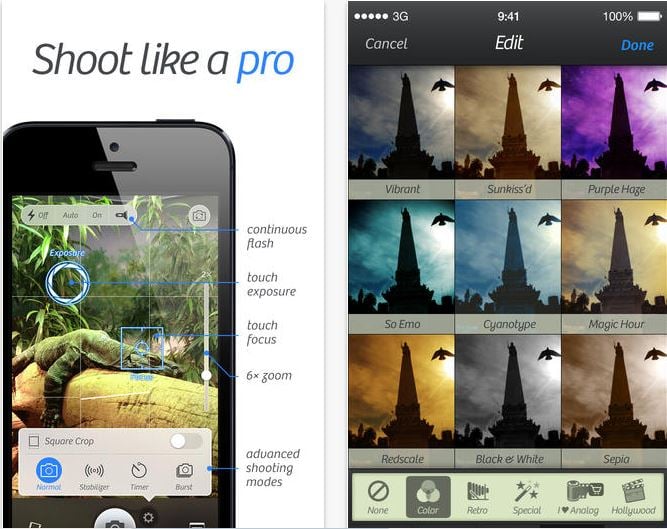 Camera+ este una dintre cele mai bune aplicatii pentru inregistrarea de poze folosindu-ne iDevice-urile, iar in cursul noptii trecute ea a fost actualizata. Noua versiune a aplicatiei aduce posibilitatea de a inregistra poze la rezolutie integrala folosind burst mode-ul utilizat si de iPhone 5S, insa functia din Camera+ este disponibila inclusiv in iPhone 5 si iPhone 5C. Separat de aceasta noutate, aplicatia include acum si toate filtrele pe care aplicatia Camera din iOS le ofera nativ utilizatorilor, deci practic vorbim despre includerea unor functii disponibile in aplicatia nativa, dar cu suport extins.
So the previous version of Camera+ had a little bug where burst-mode shooting would crash. We fixed that.
We almost stopped there and just called it version 4.0.3, but then figured that it'd be the perfect time to boost burst-mode snaps to full-resolution on devices that could handle it (like the iPhone 5, iPhone 5s, and the unapologetically poorly-selling iPhone 5c).
That was enough to justify calling it version 4.1. And then we thought about jumping on the bandwagon where we put Camera+ out as a whole new app and let existing customers pay for it all over again. And of course there'd be the ensuing sh__storm where those customers felt cheated and we'd have to backpedal and reverse that shortsighted decision.
So it was Clear that that would've been a knuckleheaded move, so instead we decided to treat our lovely customers fairly and make Camera+ 4.1 a free update as we've always done. But then we felt like it was all give and no take… so to make us feel better about giving-in too easily, we chose to call it version 4.2. That'll teach you to mess with us.
Then we felt bad about jumping ahead two version numbers and giving you little for your troubles. So we added a new effects pack that includes all the filters that Apple's standard Camera and Photo apps include (for users on iOS 7). Two hoters later), the Standard Effects Pack was born.
  Aplicatia Camera+ este disponibila in format universal in App Store si daca inca nu ati descarcat-o, va recomand sa o faceti.

Numele:
Camera+
---
Developer: tap tap tap LLC
Categoria: Photo & Video
Descriere: Over 10 million sold!
The Clarity filter is iPhone photographys secret sauceit adds pro-camera crispness to almost any shot.
Kevin Sintumuang, The Wall Street Journal
If the iPhones standard camera is l…
Dimensiunea aplicatiei este: 26.5 Mb
---