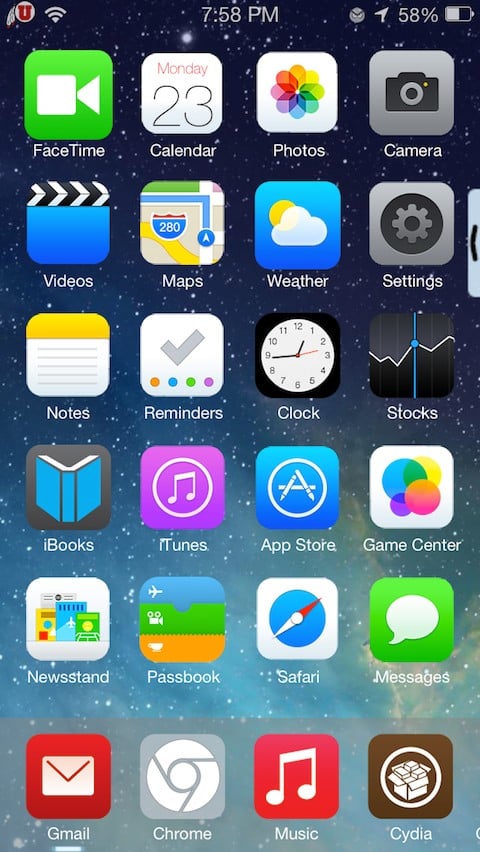 iOS 7 Redesign Theme este o tema lansata cu nu foarte mult timp in urma in Cydia, iar prin intermediul sau putem schimba usor aspectul conceput de catre Apple pentru iOS 7. Dupa cum puteti vedea deja in imaginea de mai sus, tema modifica aspectul tuturor iconitelor native ale iOS 7, dar si iconitele unor aplicatii terte, fiecare dintre ele fiind similare cu cele disponibile nativ in iOS 7. Tema are disponibile nu mai putin de 50 de iconite pentru aplicatii, insa din pacate nu vom gasi vreo interfata speciala pentru ele.
iOS 7 Redesign, how iOS 7 should have looked! Including over 50+ themed icons, and more soon to be added! This theme themes the stock Apps as well as many popular third party apps. This theme is based on iOS 7 and will function/look better if used with Pw5a29's iOS 7 theme (free) on cydia. Make sure when enabling iOS 7 redesign to drag it to the top of the list in winterboard. If you have purchased the MiniPlayer tweak you can also download my iOS 7 miniplayer theme (free) to go with this theme.
  iOS 7 Redesign Theme este disponibila gratuit in repo-ul BigBoss al Cydia.