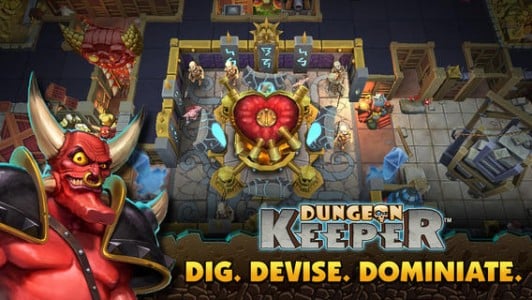 Dungeon Keeper este un joc lansat in cursul acestei nopti in App Store de catre compania EA Games si vorbim despre un tower defense extrem de interesant care cu siguranta va va tine ocupati ore bune. Scopul vostru in joc va fi de a pozitiona turnurile intr-un format cat se poate de perfect astfel incat ele sa poata distruge creaturile care sunt trimise impotriva voastra, iar partea cea mai interesanta este ca puteti utiliza diverse "magii" pentru a chema forte suplimentare in ajutor.
DIG. DEVISE. DOMINATE! It's good to be bad in Dungeon Keeper! Devilishly smart. Deploy wicked tactics and dominate your enemies! Build the ultimate underground lair and summon diabolical forces to do your bidding. It's tower defense…without the tower…and a lot more offensive! 
A NEFARIOUS ARMY AT YOUR SERVICE! From Trolls to Bile Demons, Mistresses, and Warlocks – deploy your army of baddies and unleash special attacks to destroy the competition. 
TIME TO GET DOWN! Maximize your defenses to thwart invaders with expertly laid traps and dungeon design. Build rooms like the torture chamber or dark library to give attackers some painful and shocking surprises. 
IT'S GOOD TO BE BAD! Attack enemy dungeons and plunder their resources. Deploy your forces and face spike traps, cannons, poisonous spores and more. Too many enemies? Turn them into chickens! Master the Hand of Evil™ to unleash devastating spell attacks.
HURTS SO GOOD! Some minions need more…motivation than others. Slap your Imps to get them working faster. 
JOIN FORCES – THERE'S POWER IN NUMBERS! Form guilds with players from around the world. Your new alliances let you share minions, increase resource generation, and earn exclusive guild achievements. 
  Dungeon Keeper are implementat inclusiv un modul multiplayer care va permite sa va aliati cu jucatori din intreaga lume pentru a participa in lupte, asa ca vorbim despre un joc extrem de complex. Dungeon Keeper este disponibil in format universal in App Store.
Nume:
Dungeon Keeper
---
Developer: EA Swiss Sarl
Universala
Categoria: Games
Descriere: EA has a massive hit on its hands devilishly funny and addictive. Inside Mobile Apps
Im a big fan of tower-defense-style games, real-time strategy games, and the classic Dungeon Keeper. This follows that formula perfectly. VGMarket playtester
DIG. DEV…
Dimensiunea aplicatiei este: 83.1 Mb
---