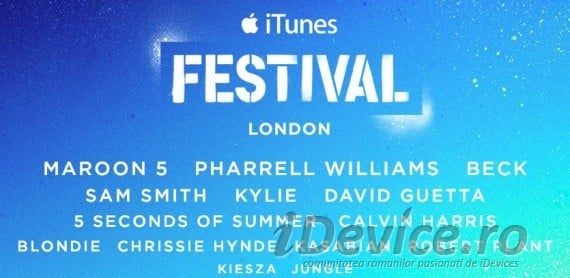 Cu doar cateva minute in urma compania Apple a publicat un comunicat de presa prin care anunta organizarea iTunes Festival 2014 impreuna cu toti artistii care urmeaza sa aiba reprezentatii LIVE in cadrul evenimentului. iTunes Festival 2014 se va desfasura in Londra pe parcursul a 30 de zile, nu mai putin de 60 de trupe/artisti urmand a avea concerte, printre ele numarandu-se Maroon 5, Pharell Williams, David Guetta, Blondie, Calvin Harris si multi, multi altii.
  Avand in vedere ca totul se desfasoara intr-un spatiu in care incape un numar limitat de oameni, Apple va organiza o loterie pentru acordarea de bilete gratuite celor interesati, anul trecut cateva zeci de milioane de persoane inregistrandu-si interesul. Pentru ca vorbim despre un eveniment gratuit, iTunes Festival 2014 va fi transmis in direct in aplicatii ale Apple si pe Apple TV.
Apple Announces Eighth Annual iTunes Festival in London

iTunes Festival Returns to the Legendary Roundhouse for 30 Days with the World's Biggest Artists Including Maroon 5, Pharrell Williams, Beck, Sam Smith, Blondie, Kylie, David Guetta, 5 Seconds of Summer, Calvin Harris, Chrissie Hynde & Many More

LONDON―July 21, 2014―Apple® today announced that Maroon 5, Pharrell Williams, Beck, Sam Smith, Blondie, Kylie, David Guetta, 5 Seconds of Summer, Calvin Harris, Chrissie Hynde and many more of the world's biggest artists will be headlining this year's iTunes® Festival. Returning to the UK for an eighth year―following a week of incredible live performances in March at SXSW―the iTunes Festival will feature over 60 acts throughout September at the legendary Roundhouse. iTunes performances can be watched live or on-demand by millions of iOS users around the world on their iPhone®, iPad® or iPod touch® and iTunes on their computer or in stunning HD with Apple TV®. Tickets are free for competition winners only. 

"The iTunes Festival in London is back with another stunning line-up of world class performers and tremendous new acts," said Eddy Cue, Apple's senior vice president of Internet Software and Services. "These live shows capture the heart and soul of iTunes and we love bringing them to our customers in the Roundhouse, as well as to the millions of people watching all over the world for free."

Music fans from across the world can win tickets to the iTunes Festival through competitions run by local media partners. In the UK, fans can win tickets by entering ballots on iTunes, as well as through select media partners including Global Radio and the London Evening Standard. 

Since the inaugural Festival at London's Institute for Contemporary Arts in 2007, over 430 artists have performed in front of more than 430,000 fans and tens of millions more online and on-demand. Now in its eighth year, the iTunes Festival has played host to performers including Adele, Coldplay, Elton John, Foo Fighters, Justin Timberlake, Kings of Leon, Lady Gaga, Katy Perry, Muse, Sir Paul McCartney and many, many more.