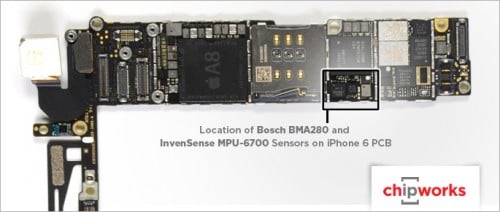 Desi in dezasamblarea initiala nu s-a descoperit acest lucru, la o analiza atenta a placilot de baza ale iPhone 6 si iPhone 6 Plus s-a descoperit faptul ca Apple a implementat doua acelerometre pentru terminale. Fiecare dintre ele functioneaza in tandem cu celalalt, compania Apple alegand sa foloseasca un accelerometru cu trei axe Bosch BMA280, dar si un acelerometru cu sase axe numit MPU-6700 si produs de catre cei de la InvenSense.
The InvenSense device can operate as a six axis inertial sensor, or as either a three-axis gyroscope or a three-axis accelerometer. It is rated to consume 3.4 mA in the six-axis mode, 3.2 mA in the gyroscope mode and 450 µA in the accelerometer normal mode. By contrast, the Bosch device operates as a 3-axis accelerometer only and it consumes 130 µA of current in the accelerometer normal mode. Both devices offer two low power levels of operation for the accelerometer function.
  Desi nu se stie oficial de ce a implementat compania Apple doua accelerometre in iPhone 6 si iPhone 6 Plus, cei de la Chipwors, care au descoperit totul, sustin ca alegerea are la baza reducerea consumului de energie si imbunatatirea experientei de utilizare a terminalelor. Chip-ul celor de la InvenSense poate functiona ca un senzor inertial in sase axe, ca un giroscop cu trei axe sau ca un accelerometru cu trei axe, el consumand mai multa energie decat chip-ul produs de catre Bosch.
The main benefit of the InvenSense is full six-axis integration of the data by the on-chip digital motion processor (DMP). This will provide a direct benefit for gaming and other applications that need sophisticated inertial sensing capabilities. In addition the InvenSense provides significantly higher sensitivity than the Bosch device. The price however, is higher power consumption.
  Daca va intrebati ce experienta de utilizare pot imbunatati aceste accelerometre ale iPhone 6 si iPhone 6 Plus, ei bine ele sunt folositoare pentru jocuri sau orice fel de aplicatii care pot fi controlate folosind miscari ale terminalelor. Spre deosebire de chip-urile din vechile terminale, aceste permit un control mult mai fin al miscarilor, asa ca in final nu veti mai fi nevoiti sa va intoarceti terminalele pe spate pentru a accelera o masina, etc.